This article is more than 1 year old
Massive online database of bird calls unveiled
Extensive contributions from the 'Brown Thrasher'
Twitchers among the Reg readership – and there must be a few of you, it's a hobby based on obsessive knowledge of minutiae and enhanced by gadgets – take heed. A massive online database of bird calls has been made available free online for your listening enjoyment.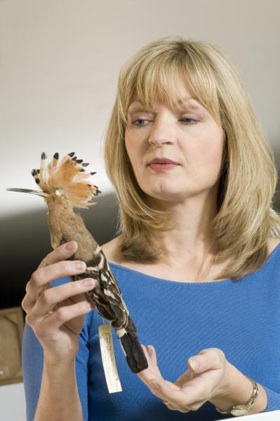 Are you looking at my bird?
We speak here of the Avian Vocalizations Center at Michigan State uni, or AVoCet, which boasts no less than 10,200 recordings from over 3,190 species in 45 countries at the last report – "and that's growing quickly," according to Pamela Rasmussen, Michigan State zoology prof.
"Soon recordings and their data from many more species and areas will be available for download," she adds.
Rasmussen is personally responsible for many of the present recordings, having collected bird calls on every continent in her travels. Others have been provided by students and local ornithologists around the world.
According to the prof, bird calls are not the simple matter one might suppose. Some types of bird apparently sing in regional dialects: others have an astonishing repertoire of different sounds. Apparently "a single male Brown Thrasher is known to give 2,000 different notes".
Rasmussen hopes that the AVoCet database will help the ornithology and birdwatching community to increase humanity's knowledge of its feathered chums in a scientific and systematic manner.
"We know that certain species will go extinct in the near future and, sadly, there's not a lot that can realistically be done about it," she says. "However, ornithologists and birders [twitchers or birdwatchers] do now have the opportunity to document virtually all the species of birds out there in one way or another, and one major goal of AVoCet is to contribute to this effort."
You can find out more about AVoCet here. ®
Bootnote
Twitching is evidently not the hobby of the sad, unsuccessful misanthrope of popular lore – if any sad misanthropes are involved they are plainly wealthy and successful ones. A birdwatching tome, John James Audubon's Birds of America, has just set a new world record for most expensive book at £7.3m.