Fill up your car at the plugpoint...
Driving will be all electric, the CCC suggests:
"100 per cent electric car penetration in the fleet is required by 2050 to meet the 2050 emissions reduction target. Given the delays caused by fleet rollover, early deployment of electric vehicles is required, even though this may initially cost more than the carbon price, to ensure that electric vehicles deliver the required amount of abatement in 2050."
It's required, but it'll be tough given current technology.
Just 55 electric cars were sold in the UK last year.
The CCC recommends road pricing, and a reduction of the speed limit to 60mph – which would be strictly enforced – but in a rare admission acknowledges that there's a political risk to these.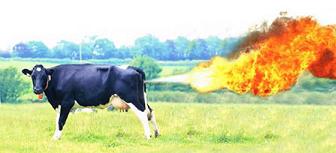 One of the few surviving cows gives its opinion of the Climate Change Act
By contrast, as with previous reports, there's little acknowledgement that industries such as steel and coal will leave the UK if the measures are introduced, and other countries don't reciprocate.
The answer? Everyone implements the UK policies.
"Full mitigation of competitiveness risks would require integration of regional carbon markets or similar carbon constraints across countries such that there is uniform global carbon price," we learn.
The report acknowledges more people will be poorer. Fuel poverty is defined as a household spending 10 per cent of its income on energy bills – and a third of Scottish and Ulster households fall into the fuel-poor category.
"Gas and electricity prices to 2020 are expected to rise faster than in our 2008 report, and household income growth is likely to be lower than previously envisaged. Therefore the number of fuel poor at the end of the third budget period is likely to be significantly higher than we projected in 2008, although not as a consequence of meeting carbon budgets," says the committee's report.
Nevertheless, the CCC insists the impact will be "neutral", if subsidies and income transfers are put in place.
Finally, the food suggestions are sure to draw some attention. Agriculture creates just 7.7 per cent of UK emissions, and this figure has already declined from 10 per cent, but it isn't spared.
The CCC proposes "demand-side abatement" and a "rebalancing of diets", with the population urged to eat more vegetables and white meat. To achieve this, "information provision" and taxes are encouraged.
"Carbon taxes on food could be an effective lever to curb emissions from agriculture in the long term" the CCC advises – although this will mean more expensive beef and lamb.
It's a magnificently ambitious programme, all in all.
Just to put things in perspective, in other news today, we learn that France is slashing the subsidies it pays out for solar power generators, and capping the number of installations, calling it a "speculative bubble". The feed-in tariff is 10 times the market rate, and the consumer faces paying €54bn more than they would have otherwise by 2020 for solar energy. ®