This article is more than 1 year old
Eircom launches streaming and MP3s bundle
Irish ISP offers tasty deals
Exclusive Sky Songs may have failed, but ISPs are apparently undeterred from having a dabble with streaming music services. Irish ISP Eircom will today launch a range of music bundles starting with free Spotify-style streaming for all of Eircom's broadband subscribers, up to a paid-for option that includes a bundle of 40 MP3s for €12.99. (Ireland is still in the Euro as of press time.)
Eircom was sued by the record labels EMI, Sony, Universal and Warner, who won a significant victory in the High Court earlier this year. However, the judge advised both ISPs and the music industry not to sit back on their laurels but to start offering decent music services.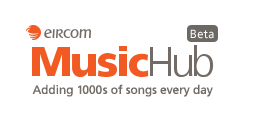 Eircom's response is called MusicHub, an echo of Carphone Warehouse's music and photos offering, MyHub. Like the Carphone service, it is open to all, not just the ISP's subscribers, although prices are slightly higher for non-subscribers.
For Eircom customers streaming is free: the "Enthusiast" tier gets you 15 downloads for €5.99 plus the streaming, or 40 for €12.99 plus the streaming. For non-Eircom customers, streaming is €6.99 a month, 15 downloads cost €11.99, and 40 downloads will set you back €22.99. That's still cheaper than the iTunes store, which like everything else is incredibly expensive in Ireland - with Top 10 songs going for €1.29 or €2.49 (with the video).
So if you already buy digital downloads, and are an Eircom subscriber, it's a pretty attractive deal. Anything that makes getting hold of licensed music cheap and easy, ought to help more musicians get paid. Why isn't there more of it about? ®