This article is more than 1 year old
Google Books spanked by Amazon Kindle
Only the basics — for now
First Look On Monday, Google announced its semi-eponymous Google eBooks offering — its effort to challenge competitor Apple and chip away at the ebook dominance of Amazon.
We installed the Google Books app on our iPad, played with it for a couple of hours, and came to the conclusion that Amazon and its Kindle (and Kindle app) have little to worry about — yet — but that whoever are in charge of Apple's iBooks software and service might want to sit up and take notice.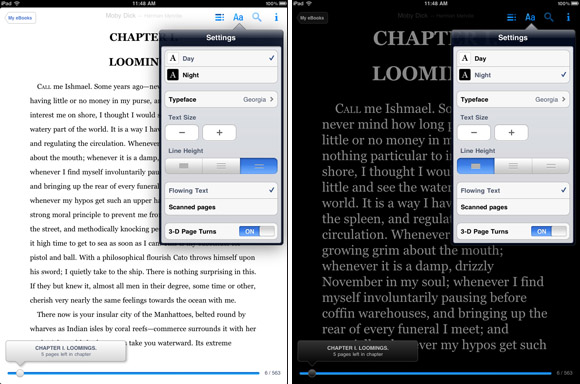 Google Books lets you reverse and resize text for night reading, as does the Kindle app. Apple's iBooks doesn't
That warning to some Jobsian minions is not merely because the iBooks interface is a bit fussy while Kindle and Google skip the Cupertinian eye candy and go straight to what you bought a book for: its content.
More to the point is that both Amazon and Google offer a tremendous number of books, both paid and free, from a broader range of publishers than Apple has managed to sign on.
For US readers, Amazon currently claims to offer 750,000 books for sale, and 1.8 million free public-domain titles. Google claims a total of over 3 million offerings, which also include a hefty chunk of freebies.
Apple — surprise — doesn't give out such information, and although Steve Jobs said at this year's Worldwide Developer Conference that his company accounted for 22 per cent of all ebook sales, that number has been derided as "meaningless" and based on "some sort of voodoo algorithm."
Of course, no one is going to read 3 million books — but when that one book you're looking for isn't offered in an ebook store, you'll notice. Say you're jonesing to read John Grisham's current bestseller, The Confession, or any of Stieg Larsson's The Girl Who... potboilers. You can buy them in Kindle or Google Book editions, but not as iBooks — Apple doesn't have a deal with their megapublisher, Random House.
Satisfaction isn't about the number of books being offered, it's about the one you want being available.
It's after you've download the book you want that the reading experience becomes important — and here both iBooks and Kindle embarrass Google Books.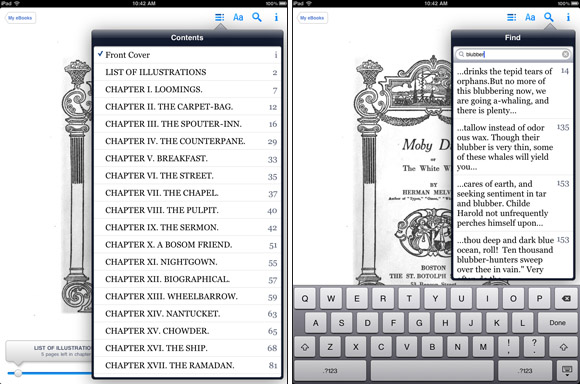 Straightforward chapter and search functions are available in Google Books, but bookmarking isn't
The Google Books app is dead simple: you can read, search, access chapters, and adjust the interface — and that's about it. Both iBooks and Kindle can accomplish those basic feats (in most titles), but they can also add notes and bookmarks, highlight text, and look up word definitions. iBooks lets you copy and paste, and Kindle provides Google and Wikipedia lookup.
Google Books does have one intriguing feature that's not shared by iBooks and Kindle: it allows you to vew the original pages of some books after they've been scanned but before they were converted into what Google poetically refers to as "Flowing Text."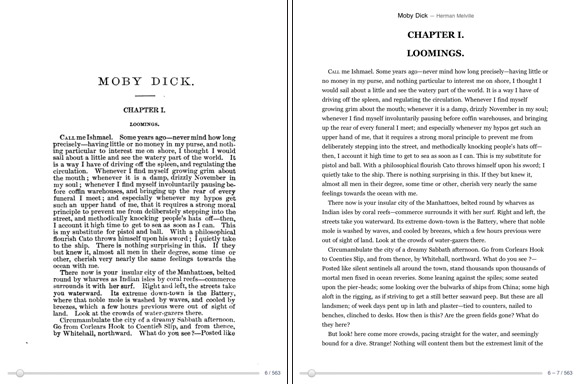 You can call him Ishmael either on the original scanned page (left) or in the converted file (right)
As might be expected, the search function works only when the Flowing Text option is selected, and not when you're viewing scanned pages.
One annoyance that we experienced when hopping about through Google's edition of the mighty — and mighty long — Moby Dick was occasionally turgid performance. With the book being hosted from the cloud, the first round of paging through it was at times laggy — leviathian-like, one might say. After the entire tome became resident on our iPad, pages turned swimmingly and offline reading was acceptably snappy, page-to-page or chapter-to-chapter.
The app also offers the now-familiar page-flip animation, which you can shut off should you find it annoying. Also, holding your finger over text magnifies a bit of that page — although the value of that last feature is questionable.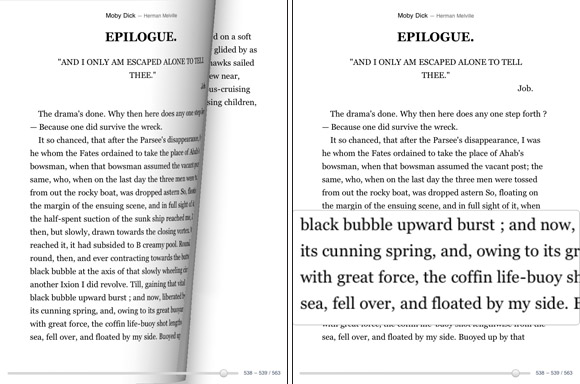 Animated page-flipping (left) is familiar eye-candy, but touch-and-zoom is a rather pointless addition (right)
Overall, Amazon's Kindle is a far more-polished app than is Google Books. Both allow you to move your reading from device to device — computer, tablet, smartphone — and pick up where you left off, but Amazon offers more elegance, features, and convenience.
That said, Mountain View has made it a practice to release apps when they're merely half-baked, and improve them in response — one assumes — to user feedback and market reaction.
We would not at all be surprised to see far more capable versions of Google Books trickling steadily out of the Chocolate Factory over the coming months. Google has invested mightily in its Google Books service — not to be confused with the Google Books app — and the company has deep enough pockets to continue to pursue the fruits of that investment.
After all, if you're going to control the world — which, at times, seems to be Google's long-term plan — controling the world's words seems a reasonable goal. ®