This article is more than 1 year old
SGI puts modular data centers on ICE
ICE Cube Air: containerized compute, take three
In the past, Silicon Graphics didn't sell containerized data centers — but the company that swallowed it and took its name nearly two years ago, Rackable Systems, did. And the new SGI is now taking its third stab at the idea.
The new ICE Cube Air modular data centers, which SGI is showing off at the Gartner Data Center Conference in Las Vegas, has a few twists on the idea. For example, they're putting the door on the side of the container instead of the back, where it is normally, which allows the row between racks to be wider. You can see what I mean in this photo: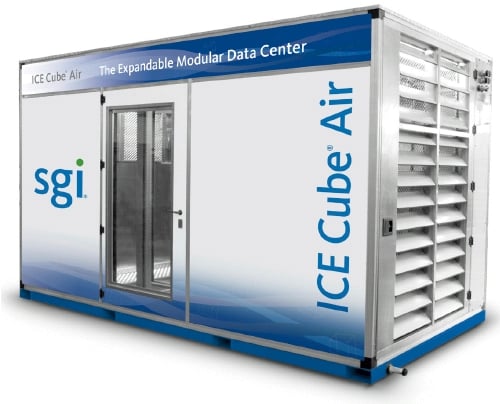 The SGI Ice Cube Air containerized data center
By making this simple change, the modules now take on more human proportions instead of looking like the guts of a submarine — and giving nerds claustrophobia.
The ICE Cube Air containers, which SGI calls modular data center units, come in three sizes. The smallest is the 8-foot container shown, which has four industry standard IT racks. Up to four of the containers can be linked together to support up to sixteen racks of IT gear. Each module can have up to 148 kilowatts of input power; up to 35 kilowatts per rack are allowed.
SGI has 51U-high racks that fit into the unit, with a roll-in maximum height of 89.25 inches. When you do the math, that works out to a total of 19,584 x64 cores using twelve-core AMD Opteron 6100 processors in two-socket, 1U servers in all of the sixteen racks. If you just put SGI's InfiniteStorage arrays in those racks, you are talking about 28.7PB of total storage in the four eight-footer ICE Cube Air containers
The medium container is a 20-footer that can hold up to 10 racks and can be clustered into four units for a total of 40 racks. This behemoth has a maximum input power of 371 kilowatts per module, with the same 35 kilowatts per rack as a max. So you're talking about a maximum of 12,240 cores or 17.9PB of storage per 20-footer — and with four interlinked, that's 48,960 cores or 71.7PB of disk capacity.
The largest size uses a pair of 20-footer containers as a building module, and then interlinks up to four of these modules together to double up the capacity of those super-tall racks to 97,920 cores or 143.4PB of disk capacity in the whole shebang.
The ICE Cube Air containers have a power-usage effectiveness (PUE) rating of 1.06, which is a little better than the Merlin modular data center that Capgemini announced in Swindon, England, in October, or that Yahoo! opened up a few months earlier with its chicken-coop data centers in Lockport, New York.
PUE measures how efficient a data center design is, and is the ratio of the total power used by the data center divided by the total power supplied to the computing equipment. The typical data centre has a PUE of somewhere between 2 and 2.5, depending on whom you ask. Google says its best data centers run at around 1.10, and the company averages somewhere between 1.15 and 1.25. The ICE Cube Air containers have highly efficient fans and a three-stage evaporative cooling system that can be fed with a garden hose. You can also hook up chillers and only need to pump through about two gallons of chilled water per minute to cool an 8-foot module.
The new ICE Cube Air containers are less mobile than the ICE Cube 20-footer and 40-footer containerized data centers that SGI rolled out in May. And unlike those prior containers, the ICE Cube Air units have an entry price that SGI will talk about, which is $99,000. The ICE Cube Air containers are available now — just in time for holiday gift-giving. ®