PARIS concocts commemorative cocktail
Readers invited to name high-altitude beverage
---
NSFD * The Paper Aircraft Released Into Space (PARIS) team is delighted to announce today that it has concocted a cocktail in honour both of our patron saint Paris Hilton and the heroic Playmonaut who on 28 October piloted the Vulture 1 vehicle to earth from a dizzying 89,591 feet.
Our inspiration for the commemorative beverage came from this view...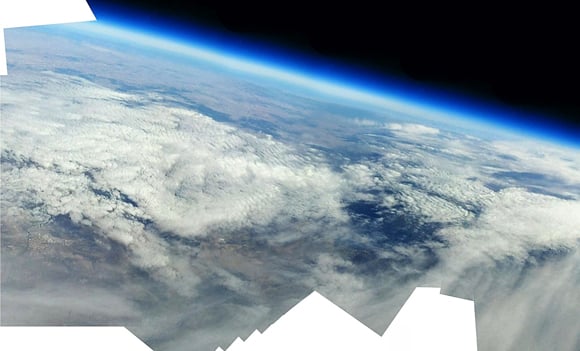 ...and we reckoned that given the right booze and a bit of trial and error we could rustle up something appropriate.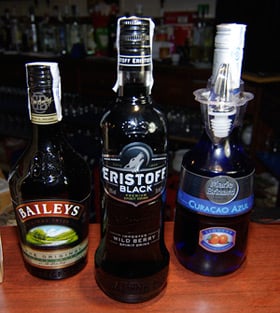 Here are the basic alcoholic ingredients selected for the job. Our initial plan was to create three distinct layers over a base of brown sugar, representing terra firma, with the Baileys, Curaçao and black vodka standing in for clouds, the upper atmosphere and space, respectively.
To meet this audacious challenge, we needed the particular skills of Tito - owner of Bar Tito, Navatejares, veteran PARIS team member and supplier of essential beer-based fuel to British space projects.
Here he is preparing to get stuck in, and already looking the worse for wear after a demanding bank holiday weekend serving hoards of Madrid chusma (riff-raff) as weekenders from the big city are known in these parts: