This article is more than 1 year old
Donkey Kong Country Returns
Great apes
Review If Doctor Who: Return to Earth shows how weak some Wii games can be, Donkey Kong Country Returns demonstrates the exact opposite. This game is bloody good, and I really need say no more.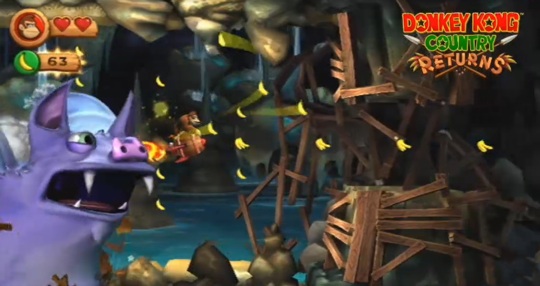 Mega bite
The staggering thing is that it's a rehash of a title released on the SNES more than 15 years ago. The orginal Donkey Kong Country was released in 1994 and sold more than 8m copies - not bad for the first Donkey Kong title not to come out of Japan, but from Rare a UK-based developer better known to erstwhile 8-bit gamers like me as Ultimate Play the Game.
DKCR follows the original, but with brighter, spiffier more up-to-date graphics so for all its history, this feels like a modern game. Even if you think platformers are old hat - and, yes, it's essentially still all about jumping on things - there's nontheless so much to engage you here that it's impossible not to be charmed.
Set on Kong's island, the game progresses through eight distinct environments, each with half a dozen levels opened by finishing the previous one, and a locked level for which you'll need the key - purchased from Cranky Grandpa Kong's shop, if you've collected enough banana coins on the way.
Kong has his strength and a hefty pair of lungs - bashing stuff or blowing it can reveal extra bananary treats - and is soon joined by nephew Diddy who provides a second character in multi-play and a handy extra pair of lives.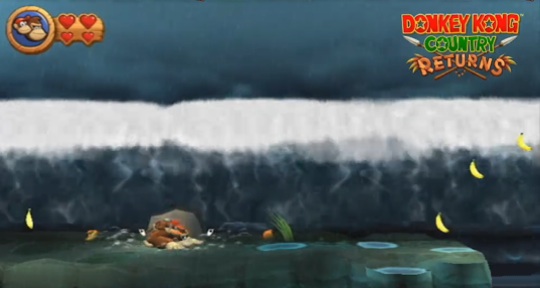 Nice and tidal
Lives are crucial here - you will die and die often - but the beauty of DKCR is that you never get so pissed off with it, you give up. If you lose a life, it's a result of cock up not conspiracy, and if you can't figure out how to cover a section the first time, you'll pick it up on the second.