NASA has the champagne on ice as its Odyssey Orbiter prepares to break the "Martian longevity record".
On 15 December, the spacecraft will clock up its 3,340th day since entering orbit around the Red Planet on 24 October 2001, and will have "worked longer at Mars than any other spacecraft in history".
Odyssey takes the crown from its predecessor, Mars Global Surveyor, which "operated in orbit" between 11 September 1997 and 2 November 2006.
The highlight of Odyssey's career to date came in 2002, when it identified hydrogen just below the surface of Mars's high-latitude regions. Scientists' deduction that this element was held in frozen water was confirmed in 2008 by the Phoenix mission.
By the end of its prime mission in 2004, the spacecraft had completed its mapping of radiation around Mars to assist future human exploration, but an extension of its working life has allowed it to provide reams more data for NASA scientists to ponder.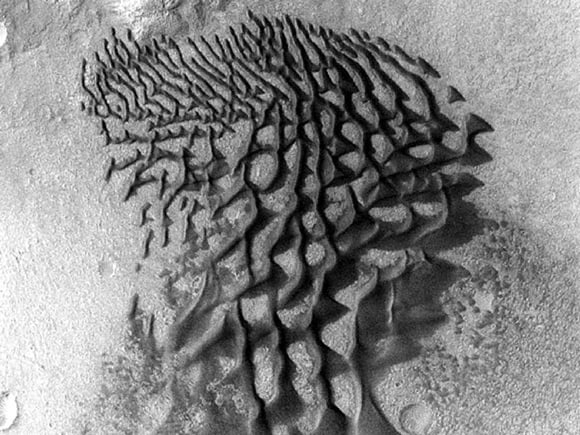 Much of this has come from the onboard Thermal Emission Imaging System (THEMIS) camera (see pic, above*). Odyssey Project Scientist Jeffrey Plaut, of NASA's Jet Propulsion Laboratory (JPL), said: "The extra years have allowed us to build up the highest-resolution maps covering virtually the entire planet."
Odyssey has also provided ongoing coverage of seasonal changes on Mars, including "the cycle of carbon-dioxide freezing out of the atmosphere in polar regions during each hemisphere's winter".
Plaut noted: "It is remarkable how consistent the patterns have been from year to year, and that's a comparison that wouldn't have been possible without our mission extensions."
The hard-working orbiter has additionally supported extended operations by the Spirit and Opportunity Mars Exploration Rovers, acting as their primary communications relay.
Bob Berry, Odyssey program manager at JPL's mission partner, Lockheed Martin Space Systems, enthused: "Hundreds of people who built the Odyssey spacecraft here, in addition to the much smaller crew operating it today, have great pride in seeing the spacecraft achieve this milestone."
NASA has a photo gallery of some of Odyssey's best Martian postcards right here. ®
Bootnote
* NASA explains: "Fans and ribbons of dark sand dunes creep across the floor of Bunge Crater in response to winds blowing from the direction at the top of the picture. The frame is about 14km (9 miles) wide."