IBM's blue bigness: A heftier systems bulge than you'd expect
We have two sexy models to prove it ...
Analysis How big is IBM's systems business? Based on my own model of revenues for the company, the answer is that IBM's systems sales each quarter – including servers, storage, operating systems, and maintenance – is considerably larger than its quarterly stats for server sales. A lot larger, in fact, and the business is a lot more stable than the quarterly ups and downs of the server hardware business might lead you to believe.
Because IBM likes to keep everyone guessing, the company does not provide revenue figures for its three server lines – four if you count BladeCenter machines separately from System z mainframes, System x x64-based servers, and Power Systems iron. IBM talks about how each server line grows or shrinks each quarter, and if you look carefully at its financial presentations, they reveal what percentage of overall revenues in IBM's Systems and Technology Group each quarter comes from servers and storage, what percentage of Software Group revenues comes from operating systems, and what percentage of overall Global Services revenues comes from maintenance for hardware and software.
If you make some initial assumptions, you can build a revenue model for IBM's server revenues and then for adjunct storage, operating systems, and maintenance revenues to get a reckoning of what its basic systems business is really generating in terms of revenues for the company. I put together my own model five years ago when the top analysts at Salomon Smith Barney and Merrill Lynch stopped putting out their own models of IBM's system component sales for each quarter. I don't make any claims about the accuracy of the model I have built, except that it fits the public data given out by IBM, more or less.
Big Blue has seen stories including these numbers over the years and hasn't called up screaming at me, nor has it offered to give me inside data as it does with Gartner and IDC to help them build their models. So take the data I am presenting here with two dashes of salt and maybe some pepper. If you have built a better model, I am happy to compare notes, too.
With this model, here's what IBM's server hardware looks like, quarter by quarter, from the beginning of 2006 through the first three quarters of 2010: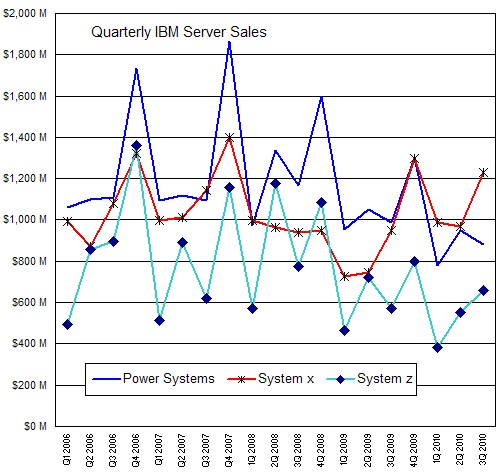 IBM's server hardware revenues, 2006 through 2010
As best as I can figure, IBM had $2.77bn in server hardware in the third quarter, with $657m of that coming from System z mainframes, $884m coming from Power Systems iron, and $1.23bn coming from System x and BladeCenter x64-based servers.
As you can see, IBM's quarterly sales for systems is very spikey, and System x boxes were particularly hard hit by the Great Recession in 2008 and early 2009. The spikes for Power Systems revenues keep getting shorter and shorter as the years go by and the Unix market contracts because of the recession and because of more intense competition from fat Windows and Linux boxes.
Mainframe revenues have been trending down because of the recession as well, but have been hampered by the impending announcement of System zEnterprise 196 machines this year. One interesting bit is that in the third quarter of 2009, System x iron almost matched Power Systems sales, matched it in the fourth quarter, and has beaten or matched the Power platform since then. The disparity was jarring in the third quarter of this year, when Power7 transitions really slammed the Power Systems line and Xeon chip transitions were well behind Big Blue and other players. System z sales have been on the rebound all year and will likely be even higher in the fourth quarter, but it seems exceedingly unlikely that they can come close to the peak hit four years ago. But, it is possible. It seems absolutely impossible that Power Systems hardware sales will get anywhere close to the peak set in the fourth quarter three years ago, but it could do as well as at the end of 2008. We'll know in about a month or so.