Hardware spending to cool, not freeze
Don't look for a lot of growth beyond 2011
Hardware spending is a leading indicator for overall IT spending, even after you adjust for Moore's Law improvements, because the appetite for processing, memory, and I/O capacity has not abated much in the past 40 years.
But spending does rise and fall with the economy, and even though late 2009 and through 2010 has seen some good growth, it doesn't look like we are in the middle of a new dot-com boom. IDC has kicked out a hardware spending forecast for 2009 through 2014 in a daily graphic that the company puts up as a teaser for its paid-for data, and I just happened to see it when it flashed up on the IT market researcher's website. Here's what hardware spending globally looks like: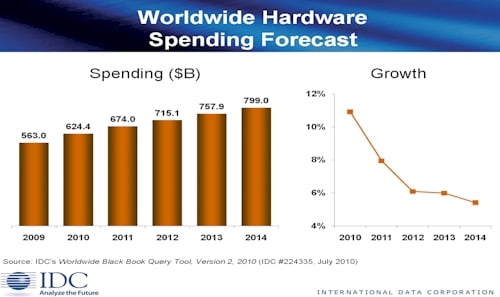 Global hardware spending projections, 2009 through 2014.
It would have been interesting to see what the data was from 1999 through 2014, or even from 2007 (when the Great Recession started) up through the 2014 projections. The growth rates in 2010 are declining because the recovery will be, for the most part, over as of maybe the middle of next year. After that, we are back to relatively lukewarm hardware spending growth.
This is not great news; but it beats 15, 20, or 30 per cent declines, which some portions of the hardware racket weathered during the most recent downturn.
As El Reg previously reported back in early June, IDC was projecting that global IT spending would rise by 3.8 per cent to $1.47trn. Then in September, IDC rewrote some numbers in its Worldwide Black Book and revised upwards its overall IT spending forecast, saying it would grow by six per cent, to $1.51trn, with hardware spending rising 11 per cent to $624.4bn.
Maybe you have, but I have never seen a hardware projection from any market researcher that went down three, four, or five years out. Everyone always forecasts growth and never sees a decline. And I am not about to make any prognostications.
I think that virtualization and cloud computing for servers and storage will eat into sales as people share systems and don't waste money buying their own for many applications, or resort to SaaS services where they don't even know or care what the applications are running on. If server-based desktop virtualization takes off, this could more than offset declines in server and storage spending because of server virtualization and consolidation.
I will say this much: if the economy doesn't improve, people will spend less, and even that modest growth that IDC is projecting won't happen. ®