This article is more than 1 year old
Robo stealth bomber piggybacks on NASA's shuttle jumbo
Desperate Boeing brings Phantom Ray show to California
Pic US arms'n'aerospace megacorp Boeing has now moved its Phantom Ray robot stealth fighter to Edwards Air Force Base in California for flight testing. The unmanned jet was shipped there on the back of one of NASA's well-known piggyback jumbo jets, more usually employed moving space shuttles about.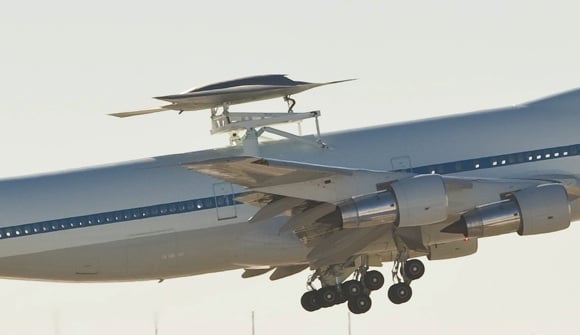 You don't see this every day. Hires TIFF here (warning, 27.4 MB).
It's widely thought among major weapons firms such as Boeing that craft on the general lines of the Phantom Ray will be the next major step forward from the manned stealth jets – F-22 Raptor and F-35 Lightning II – now going into service with the US forces (and other Western air forces soon). Barring the appearance of working rayguns or something, there isn't really a lot more one could do to a combat jet to make it better now, except maybe removing the pilot.
This would mean that the aircraft could be happily sent into dangerous enemy air-defence networks without any risk of dead pilots, or – perhaps even worse – captured pilots triumphantly exhibited on TV. This would make the air defences themselves easier to destroy should this need to be done, and also eliminate any need for a major defence-suppression air campaign before any targets could be bombed.
Present-day unmanned aircraft mostly need to be remotely piloted constantly across a decent-bandwidth communications link. Those that don't still require a non-pilot operator to direct their actions, in particular the release of weapons. Very few of today's roboplanes have much chance of survival in hostile skies controlled by an enemy air force with any serious kit (though there is already, perhaps, an exception to this rule).
Thus it is that several American firms and the national weapons companies of the UK and France (allied with some other continental nations) are all working on things a lot like the Phantom Ray. These (the Northrop X-47B, General Atomics Avenger, British Taranis and French/European Neuron) are all fighter-sized planes intended to be able to mount a bombing mission largely autonomously – requiring no operator input to fly somewhere, deliver a weapon to a specified location, and fly back again. The lack of comms requirement and advanced stealth design should mean that such aircraft can have a decent chance of survival even against serious opposition – and their lack of a pilot means that they will have a decent chance of being sent in even if that chance of survival is not perfect.