This article is more than 1 year old
Three-quarters of downloads are illegal – BPI
But nearly 75 per cent of online population are law-abiding
Seventy-six per cent of music downloaded this year was downloaded illegally, the BPI reckons in its annual survey of digital trends. The British record industry group estimates there are 8 million people, or 23 per cent of the UK online population, using P2P software.
That means around two-thirds to three-quarters of people don't indulge in piracy – a figure rarely mentioned in this debate, and a remarkable figure considering the risk of being caught (which are negligible) and potential savings (which are considerable). That means most people are fairly honest, and a considerable amount of money is not being tapped by the legitimate music business.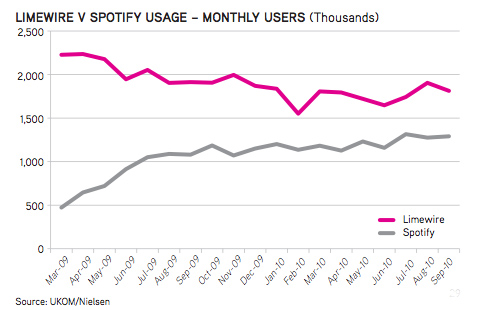 On the positive side, the BPI highlights a fast-growing digital downloads market, now worth £280m in the UK.
Not every unlicensed download is a lost sale, the BPI acknowledges. It uses a substitution ratio of around a 4.5:1. So although it reckons £984m worth of music was illegally downloaded in the UK, the realistic loss to the music business was £219m, according to Jupiter Research.
Thirteen per cent of P2Pers have stopped downloading illegally.
BPI said: "When ex-P2P users were asked why they had stopped, their answers showed that there were positive reasons for their shift in behaviour. The most popular responses included those which indicate a greater uptake of legal streaming and download services and a belief that artists and songwriters deserve to be paid for their works. Whilst it is heartening to see the effectiveness of legal services in driving some people away from P2P, deterrents are not yet anywhere near having the same impact.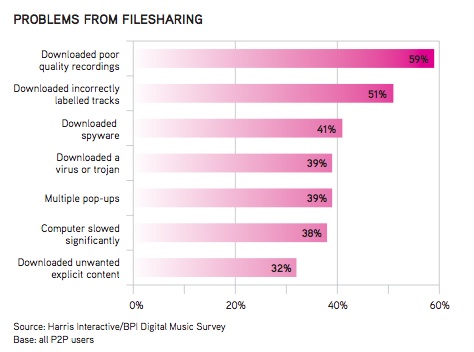 "Proposed measures under the DEA need to make an equal – if not more significant – contribution to influencing P2P users."
Overall, 7 per cent more people use P2P than last year – but the big growth is in use of overseas pay sites (+36 per cent net), MP3 search engines such as BeeMP3 (+28 per cent net) and cyberlockers such as Rapidshare (+15 per cent net).
As I wrote earlier this year, squabbling over substitution numbers can be a distraction from the work at hand – substitution studies don't estimate how much a business sector could grow if it engaged with new technologies. In other words, the amount of money that could be voluntarily extracted from us paying punters via groovy new music services remains unknown. ®