This article is more than 1 year old
MP queries Hargreaves review
How did you choose Boyle and Loosemore?
An MP has tabled a parliamentary question to find out how BIS arrived at its panel of advisors for the Hargreaves Review. Five experts are advising the former FT journalist with his six-month review into "IP and Growth". But two in particular – campaigning professor James Boyle and former web monkey Tom Loosemore – have raised concerns as they lack business experience, and have a history of hostility to creator's rights.
"I'd like to ensure the review has legitimacy," MP Mike Weatherley told El Reg. "I'd like to see a balanced review and we need to be careful it's not pushed in one direction."
Boyle insists he takes a "balanced" view of copyright. He's the co-author of two comic books, one of which (Theft!) is a collection of paranoid fantasies about copyright, and calls to limit its scope.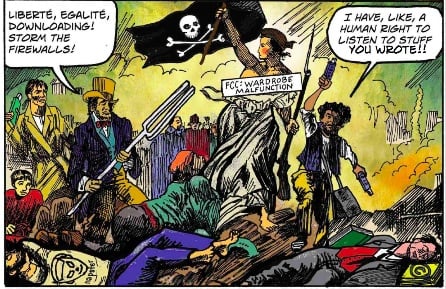 James Boyle's comic book Theft!
That looks er, pretty balanced and business-friendly.
Nothing that "the IP communities are quite review-weary and wonder if these exercises are worthwhile," IPKat's Jeremy Phillips describes the appointment as "an unfortunate burden for the review team to bear".
Weatherley is a new Member with an unusual claim to fame for an MP (or legal academic) these days: he's actually had a proper job. He was former financial controller of the Pete Waterman empire. ®