This article is more than 1 year old
HipLogic tries to fan mobile spark
Wrapping it up like it's 2005
HipLogic's latest shell replacement, Spark, is trying to bring a consistent experience to Symbian and Android handsets, paid for through sponsored content and harvesting of user's data.
Spark is a home screen replacement that provides news feeds, social networking and such like, controlled by HipLogic and sponsored by Sky News (in the UK). The premise isn't new, but HipLogic is trying to create a new way of making it pay.
Shell replacements were terribly fashionable for a while, around five or six years ago, when network operators got very excited about "branding the user experience". And smartphones seemed to offer them the technology to do so. Dozens of companies popped up to provide such platforms, generally XML-rendering packages with some JavaScript support which were hawked to network operators as a way of keeping customers loyal and reinforcing brands, but most have now disappeared as manufacturers decided they wanted their own brands front-and-centre. HipLogic's Spark is much the same thing, only without the network operator being willing to pay for it.
But since then mobile advertising has become a big thing, and HipLogic reckons it can pay for the whole experience by controlling the advertising and harvesting user information: "Once our platform is installed we know everything that happens on that phone," CEO Mark Anderson told us. Though the company isn't collecting that data right now, it is ready to do so, he said.
That's not the only feature that is still under development – aggregation of location services and sports news will apparently come next year, though Nokia stumped up the cash for a decent Twitter client to be integrated into the Symbian version at launch so it might be worth installing for that reason alone. Not that there aren't other reasons – the interface is pretty enough, and making it slide in sections rather than a screen at a time is an obvious innovation that others would be wise to emulate.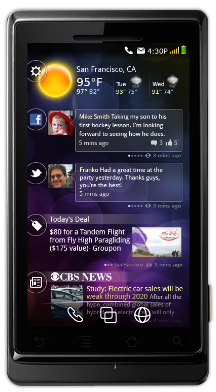 But you are limited to what HipLogic reckons you need, as the company has no intention of opening its platform to third parties. Anderson told us: "There's only ever a need to have 12 widgets, and we're providing them".
HipLogic already provides the application store for Carphone Warehouse, and we'd be unsurprised to see Spark turning up as a shell replacement for second-tier network operators, but to get users interested in downloading and installing another layer of software seems optimistic, even if Rupert Murdoch (owner of Sky) is willing to pay for it. ®