Cost
Price embodies Sony and Microsoft's disparate philosophies. Although both provide free browsing, purchasing and downloading from their respective online stores, PSN doesn't charge to play multiplayer online games. To play across XBL, gamers must upgrade to an Xbox Live Gold account, which costs £5.99 per month, or £39.99 when you buy a year's access in one go.
Sony has recently introduced a premium online service called PlayStation Plus. Costing £11.99 for 90 days' access, or £39.99 for a full year - actually 15-months, thanks to a special offer running until 2 February 2012 - users gain access to £200 of free content per year, PlayStation Store discounts, early access to demos and beta trials, and automatic downloads of system updates and game demos.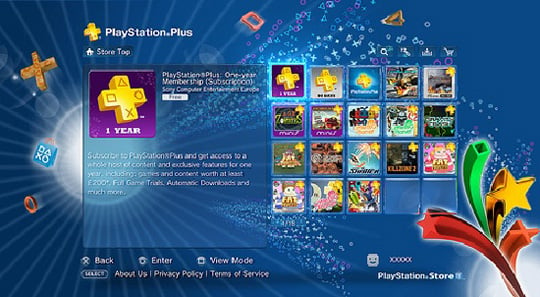 For purchasing content, PSN uses real currency, whereas XBL uses Microsoft Points. Both systems allow for credit card top-ups and pre-paid gift cards, but PSN's real currency offers greater transparency than XBL's Points. Excluding the many offers you'll find on both, when converted XBL proved generally more expensive for movies, but slightly cheaper for games.
For example, to rent recent release Predators in HD currently costs £5.02 on XBL, but only £4.49 on PSN. And to rent an old movie like Top Gun in HD, XBL charges £3.57, while PSN wants only £3.49. Buying the game Bionic Commando Rearmed presently costs £6.80 on XBL compared with £7.99 on PSN, and The Golems of Amgarrak, an add-on for Dragon Age Origins, cost £3.40 on XBL compared with £3.99 on PSN.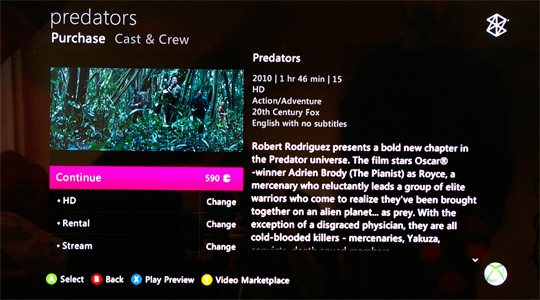 Ease of use / Interface
With interfaces, it's not so much chalk and cheese, but PC and Mac. If you start with one, you'll probably consider it the most logical and easy to use. But if you're moving from one to the other, it's going to feel like learning a second language.
Despite numerous updates, the XBL interface benefits from a unified online and offline design, with clean, uncluttered menus and large images, and directory style navigation through sub-menus.
PSN appears far more like a web browser, and is completely unrelated to the PS3's excellent XMB (Cross Media Bar) menu system. However, unlike XBL, PSN provides customisable menus to order items into lists or differently-sized icons.