This article is more than 1 year old
Zeal Optics Transcend GPS goggles
The ultimate in cyber ski-wear?
Review Being more a mountaineer than a skier I tend to the view that snowboarders and their ilk are a pretty self-obsessed bunch. Winter-sports eyewear maker Zeal appears to take a similar view, given its new Transcend goggles have GPS built-in to let snowboarders and skiers show anyone who is interested where they have been and how fast they got there.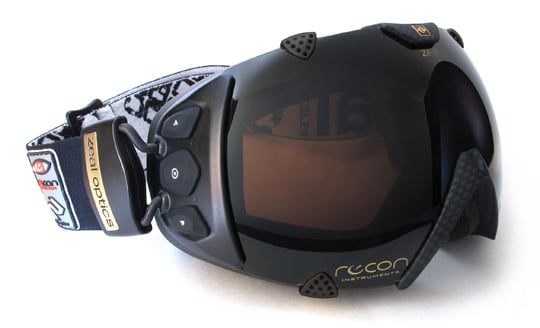 Sloping off: Zeal Optics Transcend
Leaving the GPS tech aside for a moment the Transcends are a more than decent pair of snow goggles. The polarised lenses are perfectly tinted, the fit is snug yet comfortable and the elastic strap has plenty of adjustment. The goggles also have an anti-fog coating and are fully helmet compatible.
It's just as well the fit is snug because you need to wear the goggles tight to keep the little LCD screen that sits in the bottom left corner of the right hand eyepiece in view. Once you have got that sorted the 240 x 320 screen is easy to read when you look down at it but not distracting when you are watching out for obstacles on the hill.
Indeed, that may come as a disappointment to anyone expecting to ape Robert Downey Jnr. and become some sort of Iron Man character, as sadly, the data readouts within the googles don't appear as an HUD.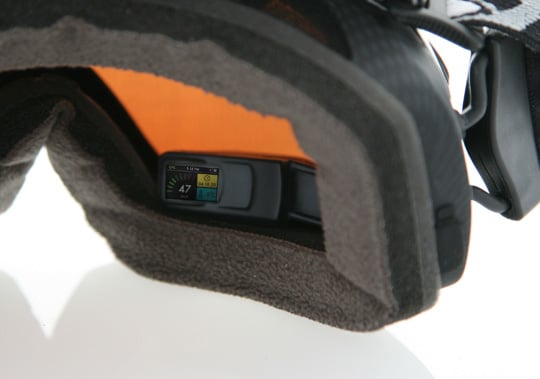 Inside the goggles nestles an LCD showing a range of information
Menu selection and navigation are managed with three rubber coated buttons on the right hand side. These are large enough with sufficient space apart to be easily used with gloves on. The menus are simple too – I managed to swap from kph to mph in a few minutes without recourse to the user guide.