Google Maps for Droid phones becomes a LOT better
iPhone, Ovi bitchslapped by 3D joy-joy
---
The Android version of Google Maps for Mobile has added some new features in a major revision – with 3D panning, a proper compass and off-line caching, to name just three.
The new version of Maps uses vector-based files, which Google reckons requires about a third of the data, and that data doesn't load in tiles any more either, which makes the whole thing a lot smoother to use. Maps can also be spun round, using two fingers, and dropped into perspective, but it's the 3D buildings that really catch the eye.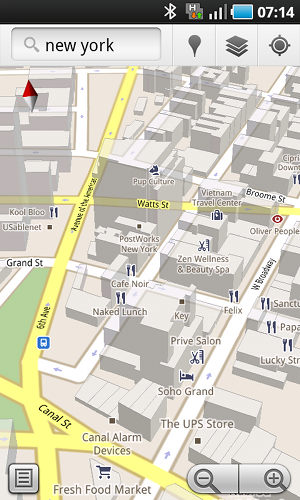 Building information pops up (literally) when you zoom in far enough, and are in the right city – there's no data for London or any of the other UK cities we tried, but no doubt this will come. The screen shot on the right was taken when looking at New York. Being able to fly over the tops of buildings is quite surreal, even if we're not convinced it's terribly helpful in finding one's way about.
The reduced data load means lots of caching, and planned routes can be cached in case the connection drops out – which until now has been the killer feature for Ovi Maps, though we've not had a chance to see how effectively Google manages it.
The interface, and vectored data, will come to other platforms soon, but for the moment it's for Android 1.6 and up, with reasonably recent hardware required for the 3D stuff. ®