Ofcom proposes UK phone numbers prefix re-org
We have simplificated it, says gov
---
Ofcom has proposed simplifying non-geographic codes, making calls to 0800 numbers free from mobiles and finally bringing an end to the insanity of 0845 number usage.
The proposals are complicated and present several options over their 482 pages, but the idea is to have all numbers that begin with 01, 02 or 03 to be defined by geographic region, to have 07 set aside for mobiles, to make 0800 free for everyone, while setting aside the 0843/4/5 and 0871/2/3 prefixes for business rate numbers and keeping 09 as a designated prefix for premium-rate calls. Ofcom has even provided some example graphics to show how simple things might be.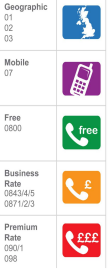 We're also provided with an example of how these icons might be used: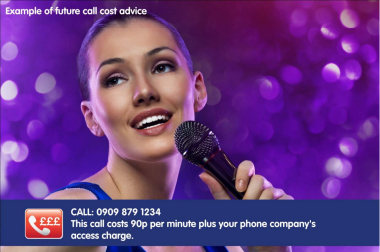 Setting aside the fact that no one is going to put three pound signs beside an invitation to call, it's worth noting that the text of the example presents one of the other options suggested by Ofcom to make the pricing easier to understand – telling the customer exactly how the revenue is split, to help them understand how much it's going to cost.
But it's the free calls from mobiles which has caught most attention. Currently a call to any number starting 0800 is free from a landline, but costs up to 40 pence a minute from a mobile, which apparently confuses a lot of people. Ofcom makes much play of the fact that lower income groups are often the ones relying on a mobile, and thus caught out when phoning government departments or companies using 0800 numbers.
But it's worth remembering that nothing comes for free – calls to 0800 numbers are free for the caller only because they are paid for by the company receiving the call, who will have to pay more to receive the call over a mobile network.
More important than that is the possibility that this review will end the insanity of the non-regional 0845 numbers, which were designed to allow everyone to make a local call but then got excluded from operator bundles and thus ended up costing considerably more. Websites such as SayNoTo0870 have long provided proper phone numbers for companies to those who know enough to look for them, but Ofcom's review is intended to deal with that by allowing companies to replace those numbers with 03 equivalents.
But not quickly. Even if the proposals are accepted, and legislation passed without incident, Ofcom expects implementation to take a couple of years, so we'll be paying for 0800 calls from our mobile and being overcharged for 0845 and 0870 calls for a while even if an end is in sight. ®