Review Lara Croft and the Guardian of Light was released on Xbox Live and the PS3 back in the summer, and now it's been faithfully recreated for the iPad.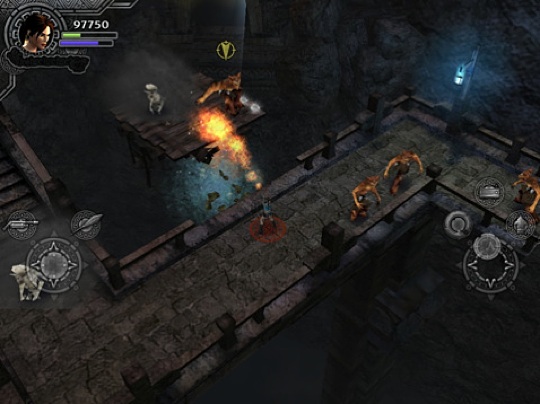 Lara Croft and The Guardian of Light: fire in the hall
Reg Hardware reviewed the console version back in August, and since this is the same game, I won't go into too much detail about it here. Suffice it to say, this is the latest in the Tomb Raider series, and one that brings it back to form, despite shifting the perspective away from the Lara Butt Cam view of old to a camera placed high up in the ceiling.
Now Lara is a tiny toy soldier-like figure at the centre of the screen, for which the iPad's 1024 x 768 display provides more than enough pixel acreage to bring the game's Aztec setting alive in all its gloomy, torch-lit, trap-packed glory.
It's a gorgeous gaming environment, full of shadow-fille corners, pools of light, mist and haze, and even firefly filled foliage. Nothing that hasn't been seen before, of course, but it's no less stunning on the iPad or iPhone for that.
Puzzles naturally play a key part here as they did in the series' heyday, many of them requiring play after play as you perfect your drop-the-ball-run-pick-up-the-spear timing in order to proceed. It's frustrating, yet engaging, pulling you back in time after time until you get it right.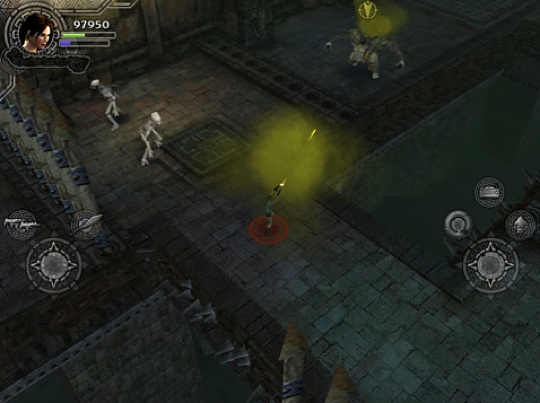 Monster mash
There are a few too many spots where you might think the developers should have dropped in a checkpoint or a health boost, but as with Tomb Raider of old this game is largely about dying in order to suss out how to complete the section when you reincarnate.