Silicon Graphics has a need for speed. Or, more precisely, some of its customers do, and those customers also have money to burn.
Supercomputer maker Appro International launched its HF1 overclocked server for hedge funds and other financial firms back in October, and now SGI is jumping into the game with a special Rackable half-depth rack server that has overclocked processors.
For a lot of workloads, particularly with financial trading, the aggregate capacity of a multi-core processor is not nearly as important as the clock speed. With clock speeds in the x64 world more or less stuck at about 3 GHz because of the logarithmic nature of the laws of thermodynamics - each small increase in clock speed yields an ever-increasing bump in power consumption and heat dissipation - financial trading companies and the stock, bond, commodity, and other exchanges that get hammered by them all day and night have not been able to goose performance the way they could in the old days before Moore's Law hit the 3 GHz speed limit on the x64 architecture.
To get an edge on their rivals, some financial companies are turning to overclocking CPUs to get that extra edge, and are willing to literally burn up those CPUs in a matter of months to get the edge to make their money.
SGI is testing the waters with a commercial overclocked server offering, and is starting out with just one machine from its Rackable half-depth server lineup. The Rackable 1000 series machines are 1U boxes sporting either Xeon processors from Intel or Opteron processors from Advanced Micro Devices, while the Rackable 2000 series are 2U boxes with the same CPU options.
For the past year, according to Bill Mannel, vice president of product marketing at SGI, the company has been selling a Rackable machine with 4U of capacity, aimed mainly at database customers who need lots more storage space in a server node than the 1U and 2U models offer. This machine is the basis of the Rackable overclocked machine, which does not yet have a formal product designation.
Instead of packing this box with a standard motherboard, SGI went to EVGA, a maker of motherboards for overclocking, which requires special voltage regulators and a BIOS tweak to work properly when running the processor above its rated speed, and dropped that into the Rackable 4U chassis. The mobo supports two standard six-core, 3.3 GHz X5680 processor, which is rated at 130 watts and which is currently the fastest Westmere-EP Xeon chip that Intel sells. With the EVGA board, SGI can crank the clock speed up to 4.3 GHz.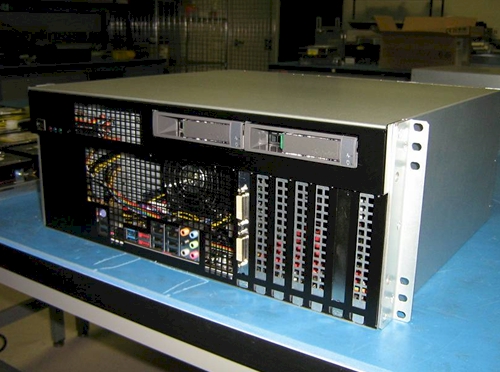 The outside of the SGI Rackable overclocked server.
The Rackable 4U overclocked server comes with two cooling options, according to Mannel. One puts a 3U tall heat sink on each Xeon X5680 processor, while the other puts a water block on each CPU with a liquid coolant that is pumped to a big radiator and fan. The latter option will no doubt be more expensive and necessary when financial trading companies have a lot of things stuffed into the box. The Rackable 4U chassis normally uses around 300 watts of juice when running two Xeon X5680s at 3.3 GHz, but putting in a fatter power supply, bigger fans and/or cooling system, and overclocking the CPUs pushes the box up to around 700 watts at the system level.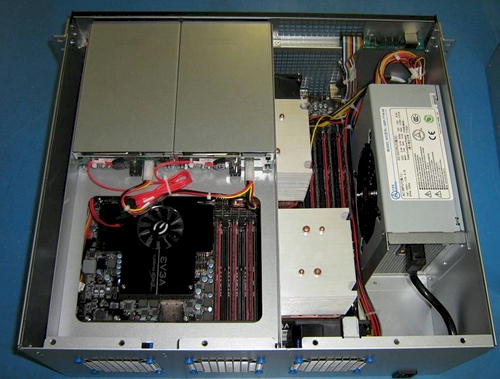 The guts of the Rackable 4U overclocked server
When you overclock a processor from Intel or AMD, you violate the terms of the warranty from the chip maker, which means that Appro, SGI, or another vendor has to provide an additional warranty or you have to eat the cost of replacing fried components when they inevitably fail. SGI is currently shipping some overclocked Rackable boxes to initial customers and is burning in some boxes in its labs to reckon what the likely lifespan is on the motherboard and CPU when they run considerably hotter. The company thinks the CPUs will last more than a month but probably not more than a year based on earlier tests. Once SGI has a better idea of how long the components will last, it will set prices on the overclocked box and its warranty terms.
The Rackable overclocked server is available now, and ships bare-bones. Mannel says that all of the financial services firms that SGI is selling iron use Linux, and CentOS tends to be popular. ®