Microsoft says no to Kinect sex game
Controller hacked for heavy pettin'
NSFW Getting down for some 'hot coffee' action isn't going to happen on the Xbox 360, at least not with the Kinect motion control system and not with Microsoft's say-so.
Borrowing the moral police helmet from Apple, Microsoft last night said that a protoype Austrian "sex game interface" based on the hand-tracking Xbox add-on will never be published with its sanction.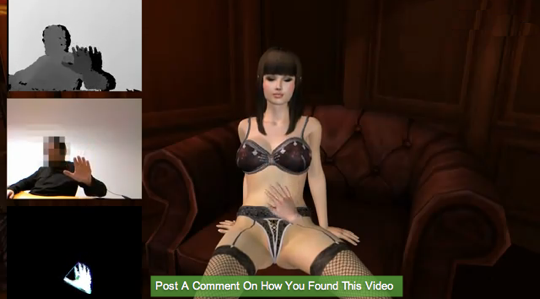 "Microsoft did not authorise or license its technology for this use," the company stiffly told the LA Times.
"Xbox is a family friendly games and entertainment console and does not allow Adults Only content to be certified for use on its platform, and would not condone this type of game for Kinect."
Its response came after the game's developer, ThriXXX, posted a work in progress video on YouTube of its "3D sex-sim:"
It's pretty limp, but it shows the possibilities.
Crucially, though, the demo doesn't use an Xbox. It uses the Kinect, yes, but connected to a Windows 7 PC running open source tools released after hackers began exploring how the Kinect works.
As such, Microsoft has no real control over the game's release. Assuming it's not a hoax, of course.
Eitehr way, the cat, as they say, is out of the bag. ®