Review "We're all in for the cloud" said Microsoft CEO Steve Ballmer earlier this year; but the company's new Small Business Server (SBS) 2011 is only half-in at best, even though smaller organisations are among the most obvious candidates for online services because they generally lack specialist IT staff.
The strategy behind SBS 2011 is curious. The Standard Edition which has just been completed, is a refreshed version of SBS 2008, based on Windows Server 2008 R2 and including upgraded server applications such as Exchange 2010 and SharePoint 2010. No radical cloud transition here; it is more of the same.
"In the SME space there is a lot of investment in on-site applications and current IT skills and our customers are still asking us for an on-site solution," said Microsoft's SBS man Michael Leworthy, defending this approach.
That said, Microsoft is also releasing SBS Essentials 2011, which shares technology with Windows Home Server 2011 version 2, codenamed Vail. The Essentials edition has been delayed until the first half of 2011, possibly because of the last-minute decision to drop a key feature called Drive Extender that simplifies disk management.
Essentials is a cloud-oriented version of SBS. It provides a local directory service, shared folders, and central backup of client computers, while hooking into cloud services such as hosted Exchange and SharePoint for email and collaboration, with single sign-on thanks to use of Active Directory Federation Services (ADFS) under the covers.
The perfect solution for small businesses, you might think – except that SBS Essentials is limited to 25 users. What if a company were to out-grow SBS Essentials? Should it migrate from cloud to on-premise? It is a muddled strategy, and no doubt reflects Microsoft's internal conflicts.
I reviewed the final build of SBS 2011 Standard. At a glance it is similar to SBS 2008, though hardware requirements have leapt form 4GB RAM to 10GB with a quad-core processor. Leworthy blames Exchange 2010, which he says is "a little processor intensive." Installation onto lesser hardware is not actually blocked though, which is useful for evaluation and testing. You get Exchange, SharePoint, Active Directory and Windows Update Services, tuned to work on a single server, with a console for management and wizards for common tasks.
Microsoft has refined installation, which now has migration from an earlier version of SBS built into setup, though migration is still complex and must be done onto new hardware rather than in-place. The licensing has also been revamped. Instead of a Standard and Premium edition, there is a Standard Edition and a Premium add-on, offering SQL Server and a license for a second instance of Sever 2008 R2. This means that customers can upgrade to Premium later, rather than having to decide whether they need those features at initial purchase.
SBS 2011 has several advantages over its predecessor. The updated Remote Web App – formerly Remote Web Workplace – is now a SharePoint application that gives access to shared folders as well as email, remote desktop, and the internal web site. The shared folders are presented with a user interface somewhat like SkyDrive, Microsoft's hosted web storage service, with drag-and-drop upload of files into the browser. SharePoint 2010 is a strong upgrade, and includes Office Web Apps for in-browser viewing and editing of Office documents.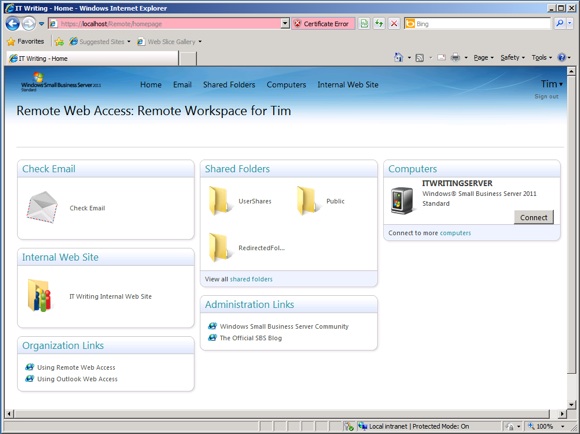 The new Remote Web Access exposes shared folders as well as SharePoint and Email
The wizard for joining client computers to the SBS domain, called Connect Computer, now automatically migrates pre-existing profiles along with their data. It sounds a small detail, but this makes the process significantly smoother for users with existing PCs.
Similar topics