It doesn't matter where in the world you go, one thing is certain: we don't want 3D TV.
That's the only conclusion we can draw from 3D TV demand stats posted by North American nabob of numbers, Nielsen. In September, it conducted a survey of approximately 27,000 online consumers in 53 countries.
As you can see from the summary chart, only a small percentage of punters in each territory have a 3D TV or want one, whereas rather a lot of folk are sitting on the fence or really don't want 3D TV, thank you very much.
Europe and North America seem most resistant to the technology. Of the Yanks and Canadians, for example, two per cent of respondents have a 3D TV, three per cent plan to buy one, but 59 per cent have no intention to do so at all.
Over here, 45 per cent say no, but three per cent have one and six per cent intend to get a 3D TV.
Global 3D TV Demand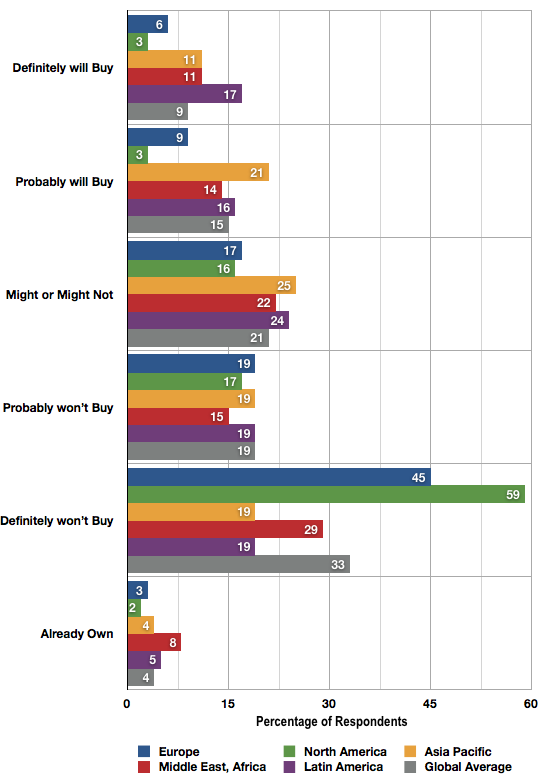 Source: Nielsen
The highest percentage of 3D TV owners is to be found in the oil-rich Middle East, though 29 per cent of respondents from that neck of the woods aren't interested in the technology.
Buyer in Asia-Pacific are a keener lot: 11 per cent said they will buy a 3D TV and a further 21 per cent said they probably will. Only 19 per cent said they don't plan to upgrade. Latin Americans said much the same: 17 per cent saying they will go 3D and 16 per cent saying they probably will.
Generally speaking, the younger members of the survey groups were keener on 3D TVs than older folk.
Separately, Nielsen sat some punters down, played them a variety of 3D content and asked them what they though works best. Unsurprisingly, perhaps, sports and documentaries topped the bill:
3D TV Content Preferences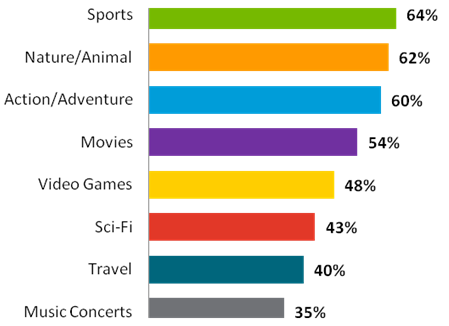 Source: Nielsen