This article is more than 1 year old
Microwaved hard disc, run-over PC and other data disasters
There's nowt as thick as folk
Recovering data after a user had somehow managed to microwave a hard disk or dropped a PC from a second floor window were among the more unusual data recovery problems successfully tackled by Disklabs during 2010.
Other bizarre cases included helping a client who had managed to drive over his computer. Disklabs has put together a list of its oddest data receiver jobs of the last 12 months, all of which concluded with the recover of data from damaged or destroyed devices.
Disklabs' top 10 data recovery disasters of 2010
"My house blew up!" One client's home suffered a gas explosion, propelling their computer to the end of their garden.
"I drove over my laptop!" Hurrying for work one morning, a customer placed his laptop bag on his car before running back into the house for his wallet. Jumping straight into the car and driving off, he remembered his laptop. As he reversed back up the driveway he ran over the machine. 
"My laptop exploded!" A client plugged his hard drive into the wrong power supply. The resulting electrical shock also caused him to knock the back-up hard drive onto the floor.
"I dropped it from a second-floor building. On purpose." A user was testing the robustness of a ruggedised laptop but didn't know someone had changed the specialised hard drive for a standard drive. The insides of the drive suffered damage from the fall but the data was still recovered intact.
"I was showing my mother how to delete data, only I got rid of the wrong information." During a demo to show how to clean off data from a machine that was to be donated to charity, a user accidentally deleted data from her hard drive, without first backing up personal data files, not the spare one intended for use in a demonstration.
Malicious ex-staff wreaking revenge. An IT team member had his employment terminated and formatted the company's email server. Malicious data erasure-linked jobs are a growing source of business for Disklabs, up 65 per cent last year.
"My wife threw her phone at me." The screen of a phone used as a mobile missile was smashed during a family row, but Disklabs was still able to recover data from the device.
"My kids decided my hard drive was a bath toy." Four year-old twins had taken their father's bright orange hard drive and put it in their bath, thinking it was a toy.  The data was successfully recovered, once the hard drive had dried out.
"I put it into the microwave." A student had the bright idea of putting his machine into a microwave "just wanted to find out what happened". This resulted in a smelly microwave and a costly data recovery job.
"I threw it over my shoulder." A user put his laptop into a backpack but forgot to do the zip up. When he threw his backpack over his shoulder he also flung out the machine, which hit a car.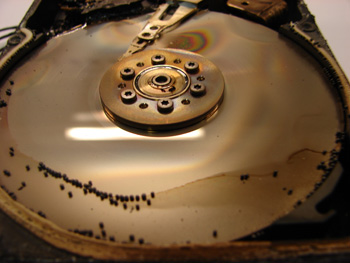 Smokin'
Disklabs handles over a 1,000 data recovery jobs each year. Director Simon Steggles said, "This can involve books from aspiring writers – or even globally recognised authors; personal photographs, music collections, company data, banking data, pornography collections – in fact, anything."
Steggles explained that the risk of these potentially expensive data recovery jobs can be avoided if users regularly back up data but that's a lesson many learn only after a costly mistake.
"People always have, and always will, lose data. In what can be desperate circumstances we not only help by recovering the stored, vital information, we also advise clients on the most appropriate backup policy," Steggles explained. ®