Cash problems
What did the budget restrictions mean for the employees? "The first issue was salary austerity measures. Basically every single employee, including Nelson supposedly, was placed on minimum salary. My salary was reduced by well over half and many received larger cuts.
"Of course, to go with this, we had freezes on hiring and on purchasing of equipment and parts. For example, an imaging optic for our laser – probably one of the most important parts in the drive – was faulty. The problem was identified but we were unable to purchase new working imagers because of the funding cuts.
"I'm unsure if Acadia paid off the creditors but when we were let go the company had several hundred thousand dollars owed to various suppliers. Some of these included the landlord who delivered  at least two three-day notices of intent to evict," said the ex-employee.
"Through this all we were promised by Mr Stuck that money was coming, and that any employee who stayed on would receive back wages plus 10 per cent. This and the bad job market naturally kept many people there longer that they otherwise would have stayed. However we lost probably one-quarter to one-third of our co-workers, and most that were left had a hard time accomplishing anything without materials or funding."
Well, yes, it would be hard to accomplish any hardware product development without materials or funding... As an aside, the venture-capital funding environment during the recession was harsh, and people looked for winners. With its history of repeatedly missing deadlines, InPhase did not look like a good destination for VC dollars.
How did the investors handle the money running out in his view?
"Mostly the investors told us to just hold on one month longer. At the time we were all laid off (in February this year) the company was primarily owned by New Venture Partners. We were told in January of 2009 that NVP needed capital and wanted to sell the company."
Signal Lake offered to buy it and then fund the company.
"That was actually the big funding we were waiting on, the money to buy NVP out and then fund the company until profitability. ... To my knowledge Signal Lake at no time in that period actually paid any money to InPhase. We were instead paid by a combination of NVP and some other companies with which we had partnerships."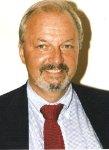 Overly optimistic:
Bart Stuck
Bart Stuck was directly involved: "He did provide much-needed financial assistance to certain people. However several of those people were only still at InPhase because Mr Stuck convinced them to stay based on his apparent over-optimism.
"In Mr Stuck's defense, Signal Lake did provide small personal loans to people who needed them. I know that one of my friends was only able to keep his home because of these loans. However by this time we had been at minimum salary for about eight months and it felt like too little too late.
"Many times we were told that the money was coming, 'within a couple of weeks, a month at the outside', only for the weeks and months to pass with no change. Often Mr Stuck would say: 'As soon as X happens, the money will start to flow" – where X was the signing of a document or the transfer of some paperwork. Then it would happen, and he would say: 'Okay, now we just have to wait for Y to happen and the money will start to flow'.
"Once this had gone on for several months [most] of us felt trapped by the possibility of back wages. My back wages would have been approximately $20,000 to $30,000. Many felt that even if a job was offered to them, they couldn't afford to lose out on the back wages if funding came. This turned out to be a bad gamble but false promises were the heart of most employee problems with Signal Lake."