Our coverage of the struggle to connect a not-spot attracted a lot of feedback, some of it very useful, though it seems not everyone bothered to read the piece before chipping in.
The story concerned an on-going attempt to get broadband connectivity to a rural house, culminating in a microwave link of dubious construction and lamentable performance which appears, none the less, go be the best option available.
I was delighted to hear from scores of El Reg readers who deluged my mailbox, and the public comments, with suggestions, comments and feedback, some of which is detailed below.
Starting with those who lambasted my choosing an omni-directional antenna as pictured on top of the Solwise kit - I didn't.
The whip antenna is designed for 2.4GHz, rather than the 5.8GHz (082.11a) I'm using and I only attached it 'cos I thought it looked rather good. The box has a 16dBi antenna mounted inside which is suitably directional.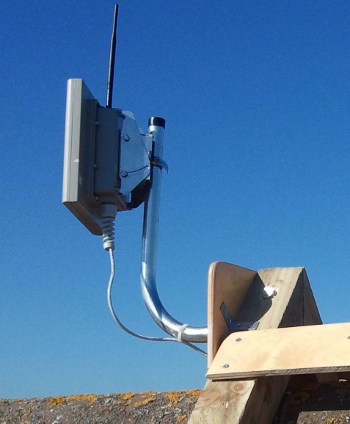 The box takes one wire and contains all, the whip on the top is for style
On the subject of directionality: I appreciated the people who suggested using a laser to ensure the antennas are aligned correctly. Unfortunately even with binoculars I can't Claire's house from here, so I'm probably not going to be able to hit it with a laser while sitting astride the roof - there's also the problem of only owning one ladder.
Better was the suggestion of attaching a red flashing bicycle light at one end for viewing from the other, and I'll be giving that a go once the weather improves. I did twist the antenna around quite a bit to get the best signal, so I'm not sure if it will help but the suggestion is appreciated.
That signal is (at the time of writing) reporting itself at 50 per cent, with a noise level of -93dbm, and from what I understand it's the latter figure on which I need to work.
Greater height is difficult, though I've had several useful discussions with readers about building a ground-based mast without a cherry picker.
A better dish antenna is easier to do, though not as easy as some have suggested. It's quite windy around here, regularly hitting 70mph and once blowing out a plate glass window, so not really Pringles-can-on-stick territory. Similar problems come in hoisting the unused satellite dish up there, I like my wooden horse but I'm not going to be lashing a 1 meter dish to it even if I thought I would be able to climb up there with the thing strapped to my back.