Western Digital My Book Live Nas box
Homelan security?
Review Western Digital's My Book line of drives spans nearly all areas of external storage, supporting fast modern interfaces from FireWire 800 and eSATA to USB 3.0. Yet the My Book Live is network drive and, in terms of connectivity, sports nothing more than a DC input and a gigabit Ethernet port.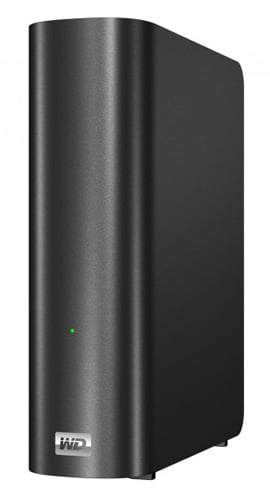 Silent running: Western Digital My Book Live
Available in both one and two terabyte capacities, Western Digital claims 100MB/s read performance for the My Book Live. WD's instantly recognisable My Book enclosure makes another appearance here, which is likely to disappoint some potential purchasers familiar with this design. Alas it's not the most stable upright drive and prone to topple with the slightest nudge – not exactly ideal when your precious data is spinning at speeds in excess of 5000 RPM.
Vertical challenges aside, the My Book Live is passively cooled, as always. For those wanting a quiet Nas box to sit on their desk, this is ideal. However, much like every other WD drive that has utilised this enclosure, the Live runs fairly hot under load.
Admittedly, I have been impressed by the performance of other models in Western Digital's My Book line in the past – notably, the USB 3.0-equipped My Book 3.0. So I had high hopes that the My Book Live would live up to its claimed 100MB/s performance.
Testing with Crystal DiskMark 3.0 using a 1GB file size resulted in a maximum read rate of 48.33 MB/s, just under half of what the spec suggests. Inevitably conditions vary and different file sizes may produce a peak throughput. Still, the My Book Live is certainly not the slowest Nas box I've encountered by a long shot. Yet while it apparently doesn't deliver in terms of claimed throughput, some of its other features certainly hit the spot.

Power and networking ports – yup, that's it for connectivity