Satnav giant Garmin's first turn-by-turn navigation app for iPhone makes its debut at CES this week.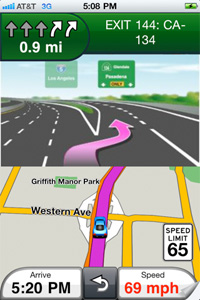 The StreetPilot App grants users unlimited access to Garmin's navigation system. Greeted by two simple options: 'Where to?' and 'View Map', customers can look up addresses or services and while on the move, receive voice prompts with spoken street names.
The app basically turns your iPhone into a Garmin satnav and includes similar features such as free traffic alerts, lane assist with junction views and speed limit indicators. StreetPilot also boasts iTunes and address book integration and continues to run in the background when a phone call comes in.
The StreetPilot App is on show at CES 2011 and is available now for $40 (£26) from the App Store. ®