DRAM prices plunging into 2011
Thanks for the memory
If you are out shopping for a server or a PC, you're going to be able to buy a box with considerably more memory than you could a year ago. With DRAM prices expected to fall through 2011, the longer you wait to buy, the more memory you are going to get for the money.
According to chip market watcher iSuppli, as memory makers have ramped up volumes of DDR3 memory modules in 2010, prices for DDR3 memory, which burns less juice and runs at higher speeds, has dropped faster than for older DDR2 memory sticks, which are still used on older machines. The prices have dropped fast enough on DDR3, in fact, that there was practically no difference in price for 1 GB and 2 GB modules as 2010 came to a close. Check it out: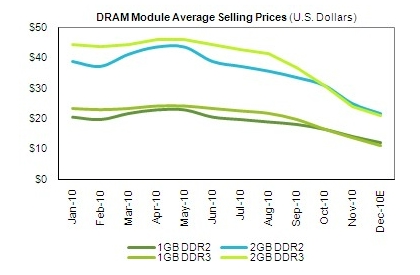 Memory prices have been cut in half since June 2010, says iSuppli
The comparative data that iSuppli has released to the public about DDR2 and DDR3 memory contract prices in 2010 is only for 1 GB and 2 GB units, so it does not present a complete picture of the DRAM market. Servers typically use 4 GB DDR3 modules these days, and even fatter 8 GB and now 16 GB DDR3 modules are available for server buyers who need to pack more memory into their boxes to support databases or virtualization hypervisors.
Nonetheless, the drop in prices for 1 GB and 2 GB modules in 2010 is very good for IT shops and consumers alike. DDR2 memory prices actually went up in early 2010 because of shortages as memory makers pulled back production as they anticipated slowing PC demand. But according to Mike Howard, who is the principal memory analyst at iSuppli, memory makers are now in the difficult but predictable position of having to make it up in volume, with memory prices down more than 50 per cent (hovering around $21 for 2 GB modules and soon to break through $10 for 1 GB modules.
"DRAM prices in general have been affected by soft PC demand – especially during the first half of 2010 – as well as by greater supply of commodity memory following a solid increase in bit shipments during the second half," Howard explained in a statement accompanying the statistics for 2010. "That lethal combination of falling demand and growing supply has coalesced to place a great deal of pressure on DRAM ASPs."
As 2010 came to a close, DDR3 memory comprised more than 60 per cent of capacity shipped, according to Howard. Memory makers that had been cranking out DDR2 chips on older processes and were still making money are now going to feel the pinch big time. With DDR3 chips, with prices coming down and not expected to find a floor any time soon, memory makers will be wishing that motherboard makers and processor makers had put more memory slots into their designs. And it wouldn't hurt for a big ol' Windows upgrade with its memory-hogging, either.
Howard says that average memory capacity on PCs rose by 24 per cent in 2010, mostly thanks to the memory price decreases, and iSuppli is forecasting that the average memory capacity will grow by another 33 per cent in 2011. The company says that as long as memory represents less than 10 per cent of the average selling price of the PC, PC makers will keep boosting capacity to keep that ASAP as high as possible.
Looking ahead in 2011, iSuppli is projecting that by the end of the first half of this year, prices for a 2 GB DDR3 module will sink beneath $15 a pop. What happens beyond that depends on how the Intel Sandy Bridge and Advanced Micro Devices Fusion chip rollouts for desktops pan out in terms of PC demand and memory supply. If memory supply and demand get in balance, Howard says price slides could slow or stop in the second half. ®