Micron revs flashy SSD line
Boosts speeds, doubles capacity, shrinks to 25nm
Micron has revved its RealSSD C300 flash products, moving them to a smaller process technology, doubling maximum capacity, increasing performance, and christening its new line the RealSSD C400.
The existing C300 line uses 34nm process technology; the C400 uses 25nm technology, which has enabled Micron to double maximum capacity to 512GB. There are three other capacity points: 64GB, 128GB, and 256GB.
All four products stay with the 6Gb/s SATA III interface and multi-level cell technology. Their best sequential read speed is 415MB/s, 17 per cent higher than the C300's 355MB/s. The best sequential write speed is the 512GB product's 260MB/s, which is slightly more than 20 per cent above that of the 256GB RealSSD C300. The other C400 products have slower sequential write speeds, with speeds slowing as capacities shrink.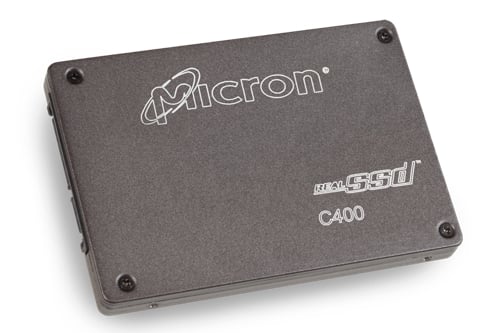 Micron RealSSD C400 2.5-inch SSD
The random read and write IOPS numbers for 4K blocks are 40,000 and 50,000 (40K/50K) for the 512GB and 256GB products, 40K/35K for 128GB, and 40K/20K for 64GB.
The endurance is up to 72TB of written data. That would allow for 5 years of working life with 40GB of data written every day for the 512GB capacity C400.
Micron is classing the C400 as a notebook drive and says there will be both 1.8-inch and 2.5-inch C400 form factors.
The product is sampling now and Micron expects mass production to start in February. Its Lexar Media operation will sell the product branded as the Crucial m4 SSD through its online distribution channels in the first quarter of 2011.
This news leaves us thinking that a single-level cell (SLC) version of this technology should/could soon emerge as the RealSSD P400. The RealSSD P300 was announced in August of last year – not long ago at all – and is a 34nm-class product with 50GB, 100GB, and 200GB capacities. We might envisage a P400 line with 100GB, 200GB, and 400GB capacities, and with faster performance than the P300.
Intel, Micron's fab partner, is overdue for a refresh of its SLC X25-E product. A 25nm iteration of that must be likely, as well as refreshes for the existing 34nm-based X24-M and X18-M MLC SSDs. At the very end of last year it introduced its m-SATA format SSD 310 NAND line, using 34nm technology. It must be presumed likely that a 25nm version of this is possible. Such a product could both double the SSD 310's top capacity to 160GB and boost its speed.
There is also a whisper that Micron could introduce a lower-cost version of the C400, branded the C400v, later this year. Flash has started with a bang this year, and lots more action is likely as other manufacturers introduce more sub-30nm products.
Consumer pricing of the m4 product, to be distributed by Crucial, will be announced in February when it reaches mass production. The pricing for the Micron C400 drive in 1,000-unit OEM volumes ranges from $110 for 64GB up to $825 for the 512GB SSDs. ®