CES 2011 Can't decide whether you want a small notebook or a tablet? Samsung's latest lets you have both.
The rather sexy TX100, unveiled at the Consumer Electronics Shows (CES) today is a 10.1in, 1366 x 768 LCD tablet with a built in physical keyboard too. The 80-key deck slides down and forward, turning touchscreen tablet into a laptop.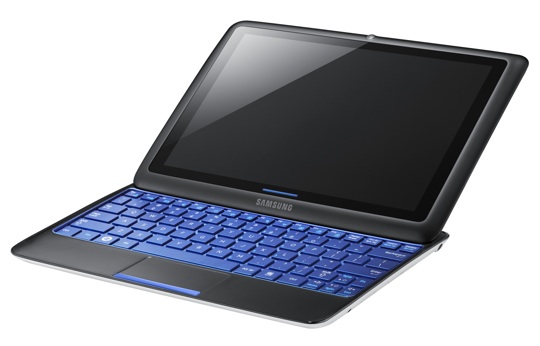 Samsung's tablet-cum-notebook isn't the first of its kind. Yesterday, Asus took the wraps off a similar gadget, the Android 3.0-based Eee Pad Slider, and late last year Dell released the Inspiron Duo, a netbook convertible with a swivel display.
The Samsung machine's notebook pretensions mean it's based on an Intel Atom chip and runs Windows 7 Pro rather than the ARM'n'Android combo favoured by Samsung's Galaxy Tab tablet.
Not quite as well connected as most netbooks and notebooks, the TX100 has Wi-Fi and a Micro SD memory card slot, plus a proprietary port into which you can hook a selection of USB and HDMI adaptors.
Like the MacBook Air, the TX100 will only be offered with SSD storage: a choice of 32GB or 64GB. Ditching the HDD helps give the tablet a battery life of up to nine hours, Samsung claimed.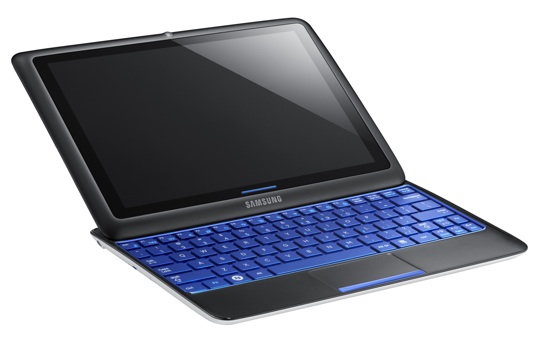 The TX100 goes on sale in March. Samsung didn't say what it plans to charge for the tablet-cum-notebook. ®