This article is more than 1 year old
Wireless HD video sticks demoed
Room-to-room uncompressed HDMI - do you want it?
CES 2011 Amimon has been showing off its HDMI stick, which converts any HDMI source into a WHDI transmitter – and now has kit to connect to – but even that isn't generating much public interested in wireless video.
The stick will be demonstrated talking to an HD projector, sending uncompressed HD video up to 100m – 3D video is also a possibility – if anyone steps up to use a technology about which the original backers appear to be distinctly lukewarm and which also faces increasingly-capable competition for a market whose existence is far from proven.
WHDI has some advantages: it operates at 5GHz so can pass through walls – unlike the 60GHz WirelessHD and WiMedia standards. Also, as it is focused on uncompressed video, it requires very little processing on reception, while avoiding the introduction of artifacts from repeated compression. However, it's very much a video technology, while the competition has more generic applications.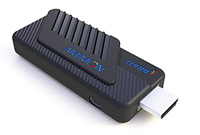 Amimon is the principal backer of the standard, and demonstrated its stick earlier this year. The stick is OS independent, but powered over a USB connection - so it is ideal for a laptop or tablet. At the Consumer Electronics Show, about to start in Las Vegas, the company will demonstrate interoperability with a HD projector from Vivitek and a handful of reference designs from various Asian OEMs, but nothing from Sony, Samsung, Motorola or Sharp, all of which signed up to the standard back in 2008.
WHDI achieves its huge data rate – up to 3Gb/sec – by using a swath of frequency up to 40MHz wide. That's a trick that some 802.11n implementations can do too, though 802.11n only manages to get 600Mb/sec into the same space, in part because WHDI is able to prioritise different parts of the video stream, while Wi-fi treats all packets equally.
Wireless video is a nice thing, but not something consumers are screaming for. Generic technologies, such as Wi-fi, are generally good enough for streaming video around the house. The occasional videophile might splash out on a pair of sticks from Aminon, assuming it becomes a consumer product, to send high quality video from one room to another, but without products from the big brands who backed the standard, WHDI will have a hard time justifying its existence. ®