This article is more than 1 year old
Intel touts 'Sandy Bridge' video chops
'Eye candy' men
CES 2011 Intel unveiled its new line of processors this morning at the Consumer Electronics Show in Las Vegas. The focus of the presentation wasn't raw performance or "power per watt", as was true in other processor intros. The focus was "eye candy".
"The built-in visual capabilities enabled by these new processors are stunning," said Intel PC client honcho Mooly Eden in a statement accompanying the rollout.
That statement, tellingly, was entitled: "Intel Brings 'Eye Candy' to Masses with Newest Laptop, PC Chips."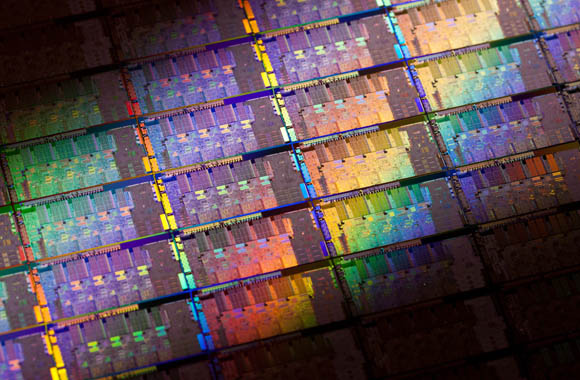 Intel's new Sandy Bridge 2nd Generation Core processors
Although details of the new processor line – codenamed "Sandy Bridge" but now known as 2nd Generation Intel Core processors – have been known for some time, today's introduction focused on the line's video and graphics capabilities.
What Intel calls its "visibly smart" effort includes an upgrade of Intel's Wireless Display (WiDi) tech, which streams video wirelessly from PC to HDTV. The new version 2.0 increases resolution to 1080p, and – more important for the content-creation industry – it includes "content protection", a feature that is undoubtly of great interest to announced partners such as Twentieth Century Fox Home Entertainment and Warner Bros. Digital Distribution.
Another "eye candy" feature that was announced on Wednesday is the rather cleverly named Intel Insider, a video-delivery service that will allow you to stream video from content partners such as Warner's WBShop to watch on your 2nd Generation–equipped PC or on an HD television connected over HDMI. Watch it, that is, after the service goes live sometime this quarter.
Intel says that a third new feature, given the marketing moniker of Quick Sync Video, "takes the wait out of editing and sharing videos with astonishing performance that completes in minutes what used to take hours." When announcing the new processor line's video prowess last September, Intel chief media architect Hong Jiang said that its tricks would include "a color-processing capability we're calling 'consumer electronics–quality color processing'."
Other features in the new line include many that have been public for some time, including support for Advanced Vector Extensions (AVX), Turbo Boost 2.0, and on-chip Intel HD Graphics.
Intel's integrated graphics have never been known for their peppiness, and it remains to be seen whether this latest iteration will live up to Chipzilla's promise of enabling "significant graphics performance improvements over previous-generation graphics for both HD media processing and mainstream gaming." ®