Motorola uncloaks 10.1-inch Xoom fondleslab
iPad challenger runs Android 3.0
CES 2011 Motorola has announced a new 10.1-inch tablet, the Xoom, hoping to take on Apple's überpopular iPad and a host of fondleslab wannabes.
The Xoom will appear in the first quarter of 2011 running Google's tablet-centric Android 3.0 operating system, aka "Honeycomb."
"Motorola XOOM gives consumers complete access and control of their favorite personal content and work files whether through our nationwide 3G network, or through our lightning-fast 4G LTE network as it rolls out around the country," read a canned statement from Verizon Wireless' chief marketing officer Marni Walden. Verizon joined Motorola in unveiling the Xoom at the Consumer Electronics Show in Las Vegas on Wednesday.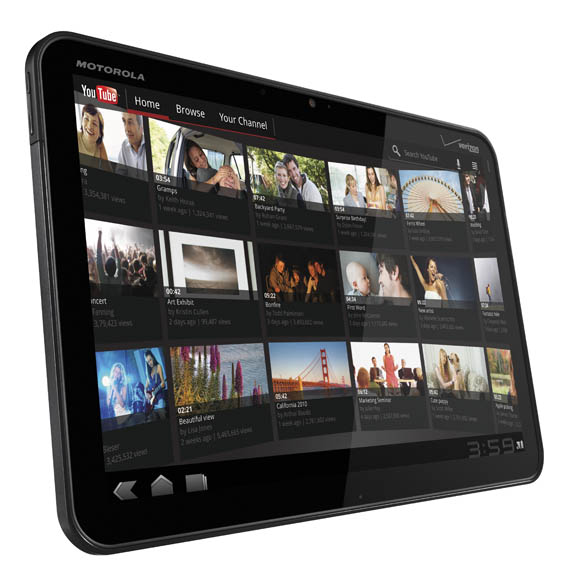 Motorola took Steve Jobs "seven inches isn't enough" mantra to heart with its capacious 10.1-inch Xoom
The Xoom comes packed with a variety of goodness, starting with its dual-core 1GHz processor supported by 1GB of RAM. Also included are the now de riguer dual cameras: a front-front facing two-megapixel number for video calling and conferencing, and a five-megapixel rear-facing unit with an LED flash and digital xoom zoom that captures video in 720p HD.
Video playback on the Xoom itself will be at 780p on its 1280-by-800 display, and the device will be capable of outputting 1080p HD video through its HDMI port. And, yes, it will be capable of playing Adobe Flash–based content.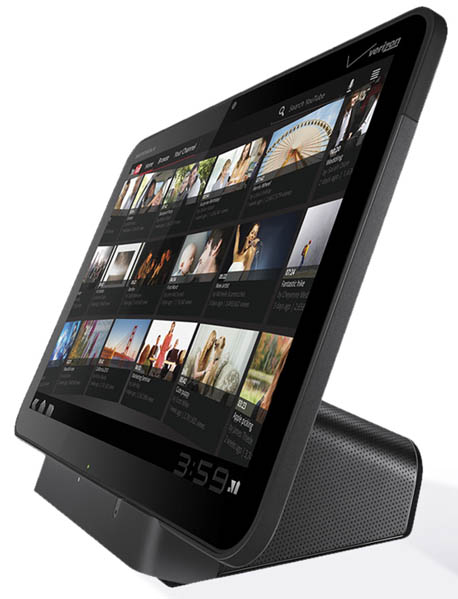 Accessories include a speaker dock with USB and HDMI ports (shown), plus a keyoard and stand
As is becoming expected in tablets and handsets, the Xoom includes a raft of built-in sensors: a gyroscope, e-compass (magnetometer), accelerometer, and adaptive lighting, and – for possible purposes (navigation?) not yet exploited – a barometer.
When The Reg spoke Wednesday with the president and CEO of MEMS-sensor maker Kionix, Greg Galvin, he told us that tablet and handset makers were coming to him for requests for the full range of sensors, even if they didn't have a firm idea as to what application developers would do with them.
The Xoom has one feature, however, that users will be able to take advantage of immediately: a mobile hotspot capability that will support up to five other Wi-Fi–equipped devices.
Although the Xoom will launch this quarter as a 3G and Wi-Fi device, it will be upgradeable to Verizon's 4G LTE service in the second quarter, and it will ship as a 4G device after that. Motorola gave no details as to exactly how the 4G upgrade would be accomplished. ®