This article is more than 1 year old
Olympus fires off seven shooters
Micro Four Thirds range expands
CES 2011 Olympus has announced seven cameras at the Consumer Electronics Show (CES), with a new addition to the PEN range of micro four-thirds cameras at the top of the pile.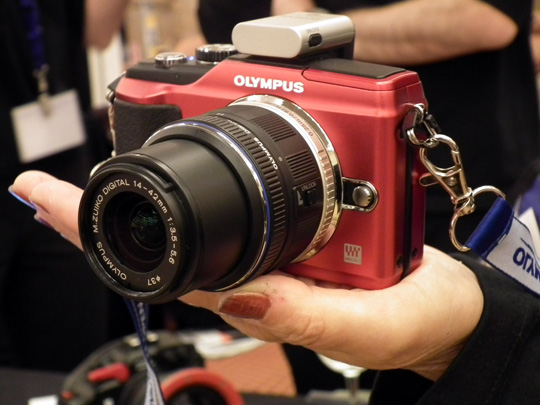 Olympus PEN E-PL2 with PENPal Bluetooth adapter
The Olympus PEN E-PL2 is an interchangeable lens camera, featuring a new kit lens designed with video use in mind. Dubbed the MSC (movie and stills compatible) lens, this 14-42mm f3.5/5.6 zoom is (equivalent to 28mm-84mm on a 35mm camera) differs from previous offerings with its near silent, high speed autofocus, making it ideal for video capture.
The 12.3Mp PEN E-PL2 has a new 3in 460k dots LCD screen and can shoot 720p HD video. When hooked up to an HDMI TV, the set's remote control can be used to operate playback on the PEN E-PL2. Using the PEN's accessory port, the new PENPal Bluetooth comms unit can be attached to which can store 2600 images and share them with other Bluetooth devices such as a smartphone or computer. The PEN E-PL2 lens kit model is expected to sell for £500.
Among the accessories announced are three lens converters, the FCON-37 fish eye that delivers a hemispherical image covering 120°; the WCON-37 wide-angle and the MCON-58 macro which is also compatible with the ED m14-150mm ED m40-150mm, and ED m75-300mm zoom lenses. To help illuminate this experience is the MAL-1 Macro arm light, another accessory port device featuring with an LED light on the end of each of its two 17cm flexible arms.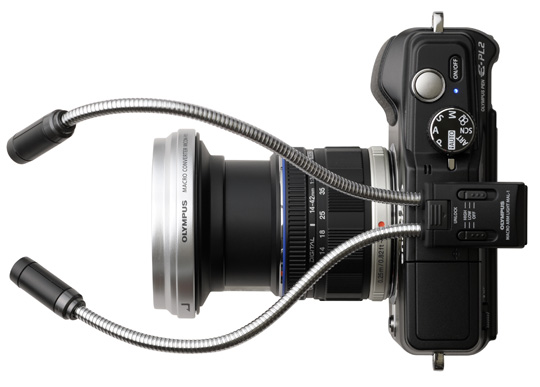 Macro converter and light arm
Other models include the XZ-1 10Mp compact (£399) featuring a bright f1.8-2.5 6-24mm (28-112mm) lens for more demanding users and made with low light shooting in mind. Bridge camera fans get the SP-610Z (£170) with its 22x optical zoom offering 35mm equivalent range of 28-616mm. The Tough range of rugged camera is revamped with the TG310 (£200) and TG-610 models. And satisfying the low-end compacts market is the VR-310 (£130) and and VG-130 (£99). ®