This article is more than 1 year old
Fit your old MacBook Air with turbo flash, bitchslap the new ones
Glowing handprint for early-adopter fanboi cheeks
CES 2011 Solid state drive (SSD) supplier OWC has come up with a flash retrofit to first-generation MacBook Airs to make them fly faster and further than ever before, faster than Apple intended, and faster than generation two Airs as well.
OWC is doing this by supplying SSDs using SandForce controllers in its new SSDs with-a-very-long-name, the Mercury Aura Pro MBA, and has splashed them out at CES, the Consumer Electronics Show, in Las Vegas.
The SSD supplier claims that 2008-2009 MacBook Airs fitted with these flash superchargers run applications more than three times faster than with Apple's own SSD inside the sleek, aluminium-bodied laptop of your dreams. With a data rate (sequential read bandwidth) of up to 275MB/sec, this is also 20 per cent faster than the latest MacBook Air and 41 times faster than an Air with a hard disk drive inside – the poor lumbering freak of a thing.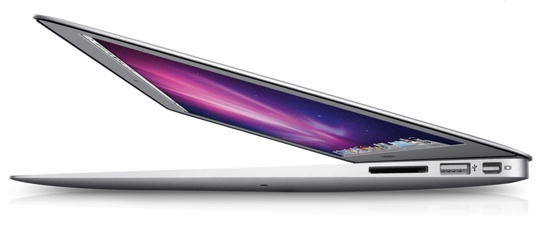 We reckon this is a re-packaging of OWC's existing multi-level cell Mercury Extreme Pro.
OWC is offering 60GB, 120GB, 240GB and 480GB capacity points, which compares to that generation Air's 128GB maximum capacity and the Gen 2 Air's 256GB. It says the SSD has 7 per cent over-provisioning – no thin provisioning in SSD land purleazze – and that SandForce's clever wear-levelling and endurance algorithms "eliminate virtually any reduction in data transfer speeds over heavy long term usage, without the dependency on less effective OS TRIM management". Not only that, but it does so with "RAID-like data protection and reliability without the loss of transfer speed due to parity".
This is every Apple-lover's dream, to go faster and last longer, and OWC founder and CEO Larry O'Connor crowed about it: "By offering faster performance and higher capacity than provided by 2010 models, the Mercury Aura Pro MBA SSD enables 2008-2009 MacBook Air owners to experience better than new performance at a significantly lower cost than a new machine."
How much does it cost to shoot past the new Airs? The 60GB OWC Mercury Aura Pro MBA retrofit costs $199.99, the 120GB job $299.99, the 240GB one $579.99 – we're beginning to talk serious money here – and the 480GB one has no published price yet. It could cost more than $1,000.
OWC has also announced its Mercury Aura Pro Express, claiming it is the first SSD available for all 2010 Apple MacBook Air models, but no performance data is given. It also has roughly similar products for pre-Intel PowerPC based Macs, MacBooks, PCs, and other desktop/tower and notebook computers. ®