Panasonic readies five 3D camcorders
Build it and they will come?
CES 2011 Just to be sure that nobody has any doubts about its commitment to 3D content creation, at the Consumer Electronics Show (CES) Panasonic launched 12 new camcorders, five of which can capture stereoscopic images.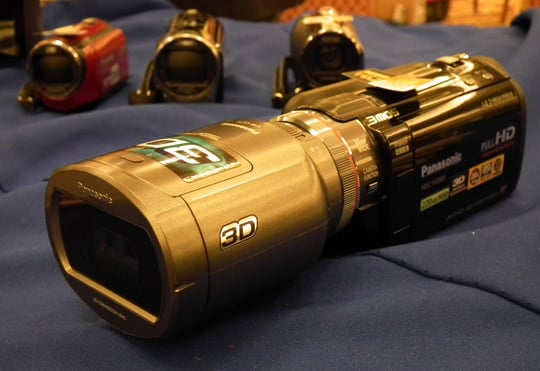 Panasonic's HDC-HS900 with optional 3D lens attachment
At the top of the range the HDC-TM900, HDC-HS900, HDC-SD900 and HDC-SD800 all feature an Panasonic's Advanced 3MOS array (three sensors each dedicated to a different colour) married to the Crystal Engine PRO processor offering improved light sensitivity and noise characteristics in low light.
With 1080p video recording in both 2D and 3D these 20x zoom cameras can take advantage of the optional VW-CLT1 conversion lens to deliver full HD content in 3D. They also take advantage of the touchscreen features first seen on some Panasonic Lumix DMC-G2 micro four-thirds cameras. Touch shutter will focus on the touched area and take a picture. Touch zoom is a new feature varying magnification as you move your finger on the screen.
At the top of the 1MOS range is the HDC-SD90 (the TM-90 in some territories) a full HD camcorder with a 28mm wide-angle lens and 40x intelligent zoom. The HDC-SD90 is Panasonic's entry-level 3D-capable camcorder, when fitted with the 3D lens adapter.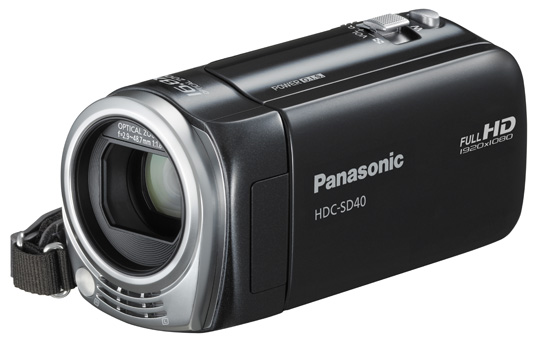 Panasonic's HDC-SD40 - the compact option for when phonecam just doesn't cut it
Back in two dimensions the new 80 series camcorders, the HDC-TM80, HDC-SD80 and HDC-HS8, are compact models featuring a 42x intelligent zoom. But if size really matters Panasonic claims the HDC-TM40 and HDC-SD40 are the world's lightest ultra-compact camcorders, weighing in at 169g. The low power consumption on both models enables long recording times of up to 135 minutes.
The new models will be available from February 2011.