CES 2011 Motorola's Atrix smartphone will be coming to the UK courtesy of Orange. Just another Android handset, you say, but it's the Atrix's accessories that make this gadget stand out as much as its spec.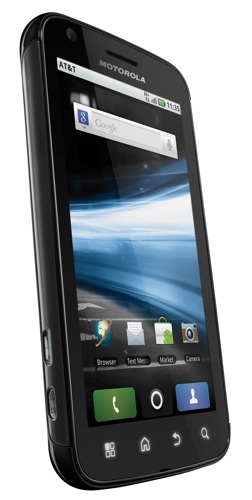 Atrix the phone
The Atrix will sport a 1GHz dual-core processor, 1GB of Ram and 16GB of on-board Flash storage to which you can add the contents of a 32GB Micro SD card if you wish. It's just 11mm thick. It has a "qHD" 960 x 540 24-bit colour screen, 2.4GHz/5GHz 802.11n Wi-Fi, and tri-band cellular connectivity.
A great spec for a phone, but Motorola will also offer an accesory that turns the Atrix into a laptop.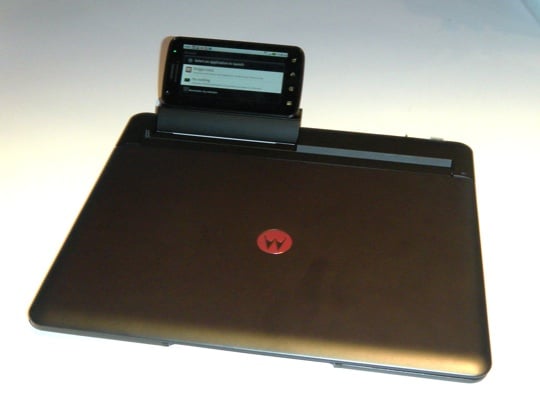 Slot Atrix into the Laptop Dock...
It's a Qwerty keyboard, 11.6in screen and battery all in a slimline metal covered case. The Atrix clips snuggly into a dock behind the screen and provides the unit's memory, storage and processing power.
Essentially, it's a way to equip the phone with a large screen, stereo speakers and a keyboard without having to muck about with Bluetooth or cables. Its own battery has an eight-hour runtime, reduced if it also has to charge up the Atrix's 1930mAh power pack. It weighs 1.1kg.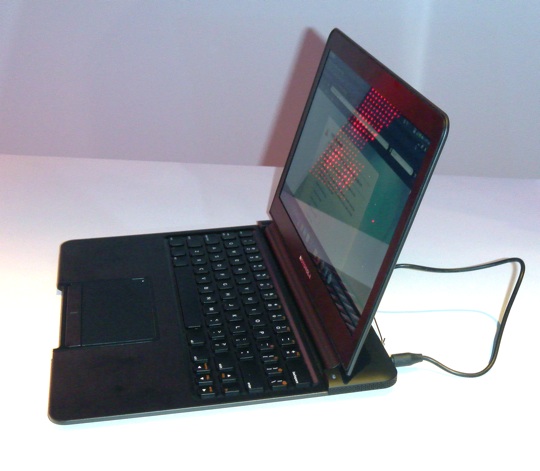 ...open up the clamshell...
It's reminiscent of Palm's poorly received 2007 Foleo - rudely dubbed the 'Faileo' - and similar products offered for Windows Mobile smartphones, such as Celio's Redfly. None sold particularly well, but Motorola is banking on the performance of the Atrix's dual-core CPU, Android and the fact it's equipping the phone with a full version of the Firefox 3.6 web browser will tempt punters put off by such gizmos in the past.
The Laptop Dock runs its own UI on the phone, but also presents the handsets Android UI in a window. The Dock will come with Citrix software to allow it to access and run desktop apps remotely.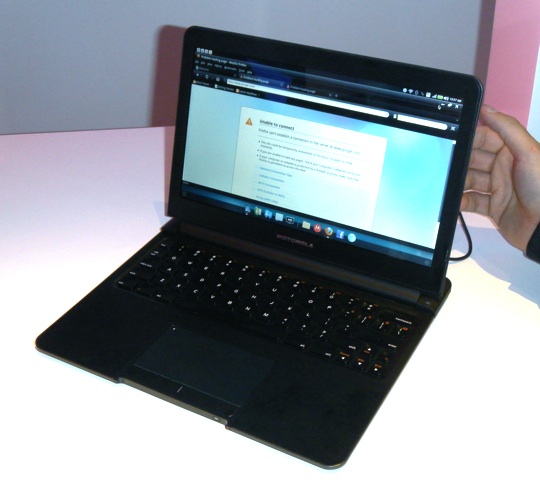 ...and - voila - a big-screen browser, connectivity permitting
Motorola Atrix is expected to be available to Orange UK customers in Q2. Motorola said Atrix would ship with Android 2.2 Froyo, but pledged to follow this up with a 2.3 Gingerbread update. ®
Similar topics