Hoxton social media types hit by Silicon Roundabout power cut
No 'leccy to be had at the Electricity Showrooms
---
Web 2.0 consultants and SEO specialists residing in the increasingly crowded hub of London's social media universe were left without electricity in Hoxton yesterday.
The outage was the second power cut to have hit residents who occupy offices near the so-called Silicon Roundabout, which is serviced by the area's new leccy supplier UK Power Networks, in the past month.
As spotted by quality London blog the Londonist, the power provider offered a temporary fix by means of plonking a monster generator outside Hoxton's very own Electricity Showrooms bar*.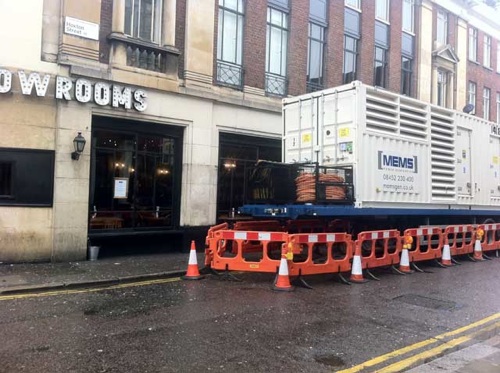 Picture courtesy of Londonist tipster, Jared Barr
In fact it's still providing energy to some punters today. UK Power Networks gave The Register this statement:
"Customers [in the Hoxton Street area of Shoreditch] are currently connected to generators as their main source of power as a temporary measure but will not see any difference to their supplies as a result of this."
It told us that a fault on the underground electricity distribution network caused a power outage for 529 customers yesterday morning.
"Unfortunately this proved to be a particularly difficult fault, and our engineers worked through the night to restore power supplies.
"The majority of customers had their power restored using an alternative electricity supply between 11pm yesterday and 2.15am today and it was believed that the remaining customers were back on supply by about 4am.
"However a small number of customers in the area called us today to say that they were without power. We worked as quickly as was safely possible to restore electricity supplies to all customers by 2.50pm today."
But the company didn't tell us when customers, whose power supply continues to be fed via the generators, will be switched back to its underground distribution network.
Either way, it doesn't bode well for the Silicon Roundabout types, who recently were visited by none other than the Prime Minister of the United Kingdom himself, Dave Cameron. He popped along to herald the brave new dawn of that spiffing Web2.0ulator, shiny buttons, opendata, marthalanefox thing. ®
*Sources familiar with the situation didn't tell us that, prior to UK Power Networks restoring the leccy, media2.0websluts were seen supping strawberry daiquiris in this fine Hoxton establishment.
Similar topics
Narrower topics