Met confirms secret Gov forecast of Brass Monkey winter
Didn't share it with us, though
The Met Office gave Government confidential weather advice that contradicts their published public statements, according to the BBC's Roger Harrabin. Harrabin says the Cabinet Office was told to expect "an exceptionally cold winter", and he sounds pretty certain about it. But back in October, the Met published maps showing a high probability of a warmer-than-average winter.
The Met vigorously denies the map, reproduced below, is a "forecast". However it has confirmed that it "provided a long-range forecast to the Cabinet Office at the end of October highlighting the risk of a cold start to the winter".
According to separate internal documents released under the FOI Act, saying two things to two audiences is advisable. The BBC News website published excerpts from several internal executive reports that bemoan the ability of the public to understand probabilistic forecasts. This resulted in "less 'intelligent' (and potentially hostile) sections of the press, competitors and politicos" conspiring to damage the Met Office "brand".
By contrast, people who the Met deems "interested customers" should be told the three-month outlook will be available on the research pages of the website. "'Intelligent' customers (such as the Cabinet Office) find probabilistic forecasts helpful in planning their resource deployment."
The Met recommended that three-month forecasts should be available on the research pages of its website but "this message should not be used with our mainstream audiences" [our emphasis].
Critics have called for a Parliamentary enquiry by the Science and Technology Select Committee. Why the fuss?
In October 2008, the Met predicted "a milder than average" winter, only for Britain to experience its coldest in 10 years. The following year, the Met predicted that "the trend to milder and wetter winters is expected to continue" – only for Britain to experience the coldest winter in 30 years. This winter has proved the coldest since records begin. Transport Minister Phil Hammond told Parliament he'll ask the Met if three cold winters in a row indicates a "steep change" in British climate.
In October, the Met responded to newspaper reports based on a probability map: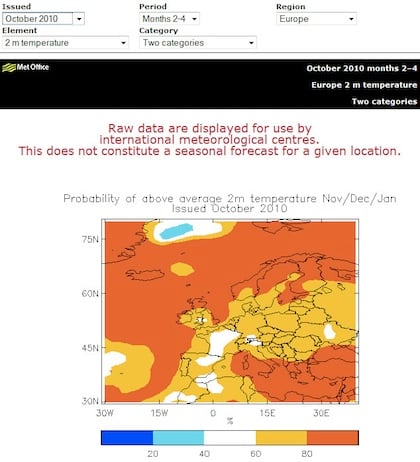 Most definitely not a forecast