This article is more than 1 year old
Microsoft Kinect goes gangbusters
XBox marks the sweet spot
CES 2011 During his annual keynote speech at CES in Las Vegas this week, Microsoft CEO Steve Ballmer revealed the company had sold eight million Kinect devices in its first 60 days - three million more than expected.
In the last two months of 2010, Kinect purchases went through the roof, boosting sales for Xbox consoles in the process. Fifty million Xbox 360s were sold over America's holiday season, making it the number one selling console in North America in the last 6 months. The Xbox Live community gained a member every two seconds.

In his speech Ballmer revealed a clutch of Kinect-enabled experiences coming soon in 2011. One, Avatar Kinect, will bring a player's avatar to life using facial recognition technology. This means an avatar will not only mimic a player's movements, but also their expressions.
From spring, Xbox Live Gold subscribers will be able to use Kinect to control their netflix experience. Users can pause, rewind and fast-forward streamed-movies with voice commands or gestures.
The same applies to Hulu Plus, where controller-free motion and voice commands will control popular TV shows in HD.
2011 will also see enhancements to Windows Phone 7, including copy-and-paste, a feature beloved by techies, but how many people actually use this on their phones? Also loading and switching applications will become faster.
1.5 million WP7 devices were sold in the first six weeks of availability and its app marketplace continues to grow fast, with more than 100 apps added daily.
Microsoft is also working hard to make WP7 available on more mobile operators.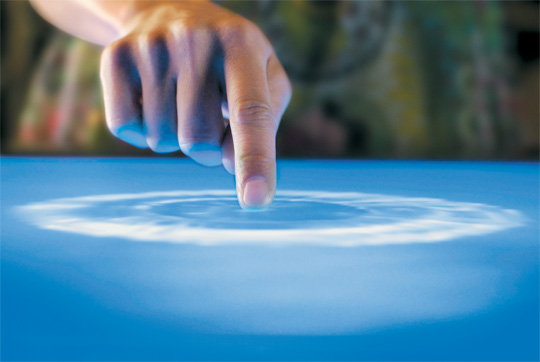 Ballmer revealed the next-generation of Microsoft Surface, built on new tech in partnership with Samsung that enables thin LCD screens to 'see' without the need for cameras.
The Samsung SUR40 for Microsoft Surface incorporates all the key features of the original Surface, as well as new technology that enables more "flexible form factor". ®