Review Hard on the heels of Samsung's Galaxy Tab comes the S7 from Chinese manufacturer Huawei, an Android tablet that aims to tread the line between the pricey Galaxy and the wretched crop of £99 devices that you can find on the shelves of Netto and Asda.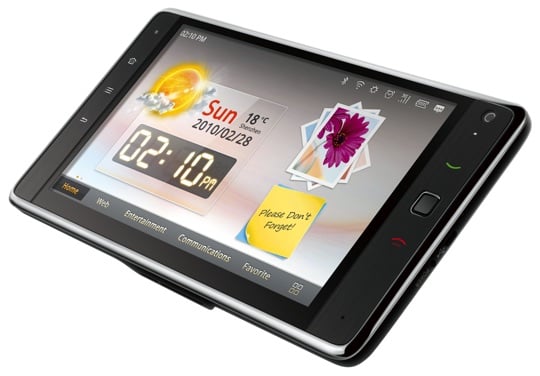 Huawei's S7: handsome
The S7 is certainly a solid and handsome bit of kit with a rather fetching polished chrome band around the face. Compared to Samsung's offering, the S7 is taller, narrower and thicker, and looks altogether more like a king-sized Android smartphone, albeit one with a handy flip-out rear stand.
Flanking the 7in, 480 x 800 resistive screen are - to the left when held in landscape orientation - are the usual Android home/menu/back buttons. To the right sits a a touch-sensitive trackpad and call keys. The edge of the device houses the volume controls, a power switch and a 3.5mm audio jack.
Wirelessly, all the bases are covered with 2.4GHz 802.11n Wi-Fi, stereo Bluetooth and HSDPA 3G connected by way of a regular sized Sim card that lives under the rear panel along with the replaceable battery. The S7 works as a fully fledged mobile phone but only in speakerphone mode when you're not using a headset.
Each side of the S7 houses a small speaker which combine to give surprisingly loud and decent quality stereo sound for both media playback and phone conversations.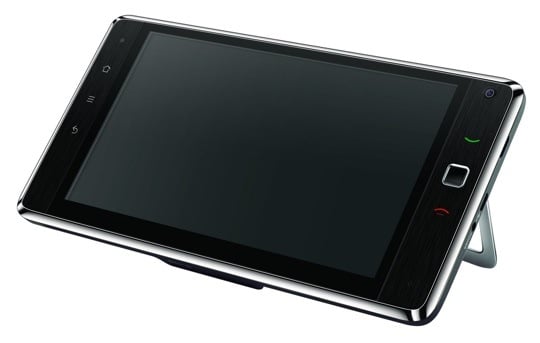 Kick-stand included
The front-facing 0.3Mp webcam will be useful for video calls if Skype or Google Talk ever gets this functionality on Android, but the rear facing fixed-focus 2Mp snapper serves very little purpose other than for the most casual snapping. Capturing QR codes seemed beyond it, for example.