Android accented
Huawei has fitted the S7's Android UI with its own overlay, which divides the desktop into five zones each with two screens labelled Home, Web, Entertainment, Communications and Favourites. There's a final tab to present the usual Android apps screen.
You also get a selection of 13 bespoke "Emotion" widgets for live desktop display of the time, weather, RSS feeds, incoming messages and the like. All this sits on top of Android 2.1 and though I've heard rumors of a 2.2 upgrade, I'd say that's an 'if' not a 'when'.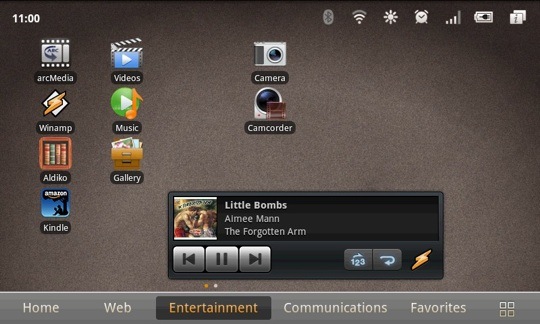 Huawei has added its own UI to Android 2.1
The 768MHz processor under the hood keeps everything moving at a fair clip and the screen, though resistive, supports a user interface that is responsive and fluid enough to make the trackpad and stylus - the latter hidden away so well I only found it after seeing it listed in the user guide - redundant. Huawei's excellent virtual keyboard is hard to fault.
The S7 comes with 8GB of built-in storage but the system presents this as an SD card so you only have the more usual 512MB of Flash to house the system software and for apps storage. After system requirements, my S7 had 160MB free which I soon started to fill so this may be an issue for app fanatics because Android 2.1 doesn't support the offloading of applications onto an SD card.
A Micro SD card slot will let you add another 32GB of storage, with the media content of both cards being presented as a unified library.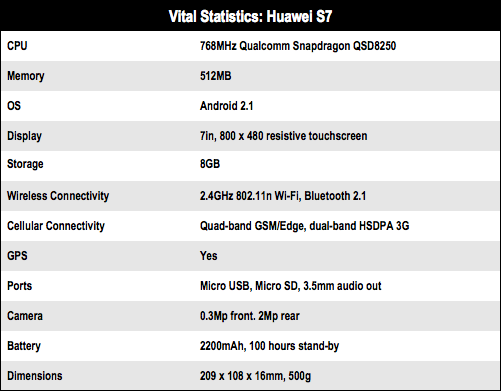 Similar topics