Battery capacity
Weighing 500g, the S7 is twice as heavy as a Kindle and 120g heavier than a Galaxy Tab, making it a bit uncomfortable to hold in one hand. Heft aside, the S7 makes a decent enough e-book reader when combined with the Kindle or Aldiko apps.
At the bottom of the device next to the Micro SD slot you will find a port for Huawei's desktop charging dock which brings with it two USB ports, an HDMI connector, RCA audio and s-video out. At the time of writing I don't have any price or availability information on the dock.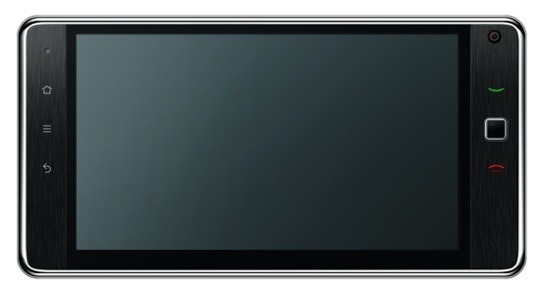 Yes, it looks like a big phone
With nearly twice the power capacity, the Galaxy Tab has the S7 firmly beaten on the battery front and it's worth noting that the S7 can only be charged using its 5V DC feed, not via USB.
How long a full charge of the S7's 2,200mAh battery lasts will depend on what you're doing. Running a standard definition video at full screen in flight mode sucked the power pack dry in two hours and 35 minutes. In day-to-day, use I got between four and five hours of connected screen-on activity between trips to the socket. This is close to the bottom of the barrel of acceptability.
Verdict
With Samsung's Galaxy Tab and Apple's Wi-Fi/3G iPad both going for around £530, the £280 S7 is fair value. Of course, compared to the iPad, the S7 is really just a big Android phone, and it's not as technically advanced as the Galaxy Tab, but I'm not entirely sure either device is better to the tune of £250. I'd personally still be inclined to wait until a proper tablet-optimised version of Android appears before taking the plunge, but I can't imagine that anyone who got an S7 for Christmas was too disappointed. ®
Thanks to Expansys.com for the review sample
More Tablet Reviews...

Samsung
Galaxy Tab
Archos 7
Home Tablet
Apple iPad
3G 32GB
Dell
Streak

Huawei S7 7in Android tablet
Basic 7in Android tablet that's cheaper that the best-known brands, but more capable that the ultra-inexpensive alternatives.
Similar topics