A Minnesota man has been cuffed on charges of "creating an explosive device and making terroristic threats" after allegedly rigging the worst Xmas present ever for an ex-girlfriend – an exploding vibrator.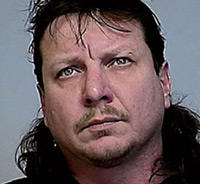 According to the Criminal Complaint (PDF), Terry Allen Lester, 37, (pictured) was reported to police by two women with whom he'd been sharing a Waseca apartment. He told the pair he'd "made some modifications" to a vibrator and intended to give it to one of three women "because his relationship with those females had ended badly".
He said that "when the device was inserted into the female he would pull the trigger and it would blow them up".
The apartment's landlord threw Lester out on 29 December, and among bags he left in the spare room, the two remaining occupants discovered "items that made them uncomfortable" in a container marked "Christmas Gifts".
Inside were "cords, cables, small tool kit, drill case with drill parts (the drill was taken apart to use the parts for the vibrator bomb), one black vibrator with gunpowder, BB shot and buck shot inside, trigger attached and battery connector, one pink vibrator with 'Merry Xmas Bitch' written in black ink, and one cream-colored vibrator".
Cue bomb squad intervention, who dismantled the device, while cops detained Lester. The perp denied the vibrator bomb was his, and is languishing in jail pending a court appearance. He faces 10 years inside if convicted, CBS reports.
The "bizarre plot" has left Waseca residents a bit bewildered. Tae Borne, owner of Lindner's Liquor where Lester was a regular customer, said: "I am in total shock. I could not believe it when I read it for sure. He has always been nice when he has come into the store." ®