This article is more than 1 year old
Kingston prototype relieves iPad storage limits
Wi-Fi, mobile memory expander, anyone?
CES 2011 At the Consumer Electronics Show (CES) Kingston has been busy hosting exclusive demos of its forthcoming portable wireless storage device codenamed MobiSX. The thinking behind the device is to make history of the fixed storage woes that befall mobile gadget users with products such as Apple's iPad and iPhone.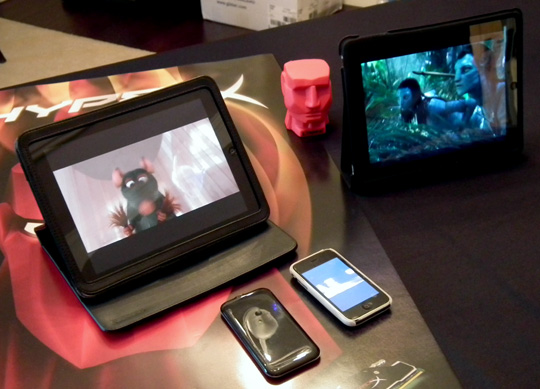 Compact and capable, delivering multiple video streams to different devices
That said, there are only plans for the flash storage device to be available in 16 or 32GB capacities, when a version with an SD card slot would really deliver on expansion. Still, it's pretty nifty and has 802.11n Wi-Fi with a range of around 30ft.
The MobiSX was demo'd simultaneously streaming separate movies to two iPads and an iPhone – with each one playing a different movie. Content stored on the MobiSX is simply accessed from a directory viewed on mobile device browser, eliminating any need for an app to be installed.
Lightweight and battery powered, in its current guise, Kingston's MobiSX looks not unlike a black iPod Touch, but with no screen. It has just two status lights, a power button, a recessed reset pinhole and a mini USB port. The latter can be used for both charging and data transfer. The battery life is said to be around four hours, with a six-hour full recharge time.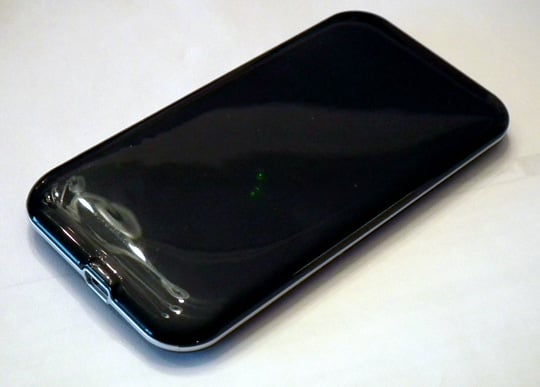 More than just a hint of iPhone styling but the MobiSX will be developed for multiple platforms
The MobiSX needn't just function as storage expansion for nearby mobile devices, its range can be extended with existing Wi-Fi set-ups – adding the unit in much the same way as you would configure a wireless printer – which has the added benefit of improving battery life.
Despite using iOS devices for its demo, Kingston is keen to stress that this is not an exclusive iOS accessory. In effect, it's an ultraportable Nas box and will be developed to work with other devices, including Android, and will support a range of formats for playback.
Kingston anticipates the MobiSX will be available in Q2, although it may have a new name by then. The target price of the 16GB model will be under $100. ®