A California mother of three was cuffed last Friday for allegedly having sex with a 13-year-old boy she met in an Xbox Live chat room.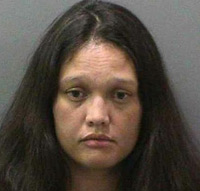 Rachel Ann Hicks, 36, of Lake Forest, allegedly posed as a 23-year-old woman in order to chat up the Maryland teen online, and the relationship "progressed to phone calls, texts and emails that sometimes included Hicks sending the boy sexually explicit images and movies", NBC explains.
Hicks flew to Florida to visit relatives for the Thanksgiving holiday, and on 27 November drove to see her alleged victim.
Orange County sheriff's spokesman Jim Amormino said: "She met the victim at his home and while his parents were asleep she had sex with him."
The lid was blown on the illicit romance when the lad's family spotted "romantic" text messages on his mobile phone. He confessed to his parents and police moved to track down his seducer.
The hunt was hindered by Hicks hiding behind a false name and age, but federal authorities were eventually able to nail her.
She's being held without bail "on suspicion of rape and child molestation", while the authorities investigate another possible victim – an under-18 California boy, according to news reports. ®