This article is more than 1 year old
The Girl with the NSObject Class Reference tattoo
Verity tackles Swedish noir
Most of the proactive computing is performed by tattooee Lisbeth Salander. She is one of a rare breed of computer specialists, first identified long ago by NTK of blessed memory. When confronted with an encrypted file, instead of saying 'oh bugger, it's encrypted' as you or I might, Lisbeth says 'it's encrypted, this may take a little longer'. Naturally, all software security protection falls apart at a touch of her gently probing mouse cursor.
Frk Salander is said to have 'loads of tattoos' in addition to the famous dragon. Perhaps 'Lisbeth' is another infelicity of translation; she would surely have been more aptly named 'Lydia'. I wouldn't be surprised if part of Lisbeth's expertise comes from having an ASCII character chart - Swedish cøde page, natch - inscribed above her elbow, or a BNF description of C# etched into her left shin, to save time googling it up in a crisis.

What am I talking about? C#, indeed. Objective C, that would be our Lisbeth's pleasure.
Personal note to Dell marketing department: if the studio offers you product placement in the forthcoming Hollywood treatment of this book, I suggest you demand script control or take a pass.
Firewall
(Author: Henning Mankell, pub: Vintage, 534pp.)
Henning Mankell's book is a quaint, nostalgic look back at the very early days of the computing - ie ten years ago - masquerading as a eco-terrorist thriller. The text was originally written in Swedish, but has been translated into idiosyncratic English for the convenience of Anglophone readers.
The translation is much fancier than that of TGWTDT, for example using the word 'enormity' to mean 'wickedness' rather than the consequence of excessive embiggenation, and employing the word 'murder' as a collective noun for crows - something I have never previously seen done except as a joke.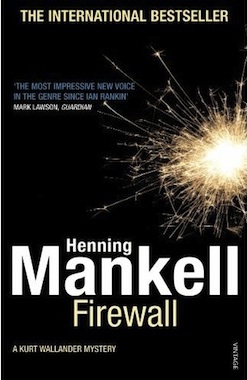 From a technical point of view, the book is disappointing. I looked in vain for even basic firewall advice, such as blocking off every port except 80, or enabling NAT. The novel's text specifies that the protagonist has no interest or understanding of computers at all, except that they have freed him from the need to apply Tipp-Ex to corrections, and I rather suspect this goes for the author too. Despite being at the centre of the plot, the computers are entirely generic: they may be Macs or PCs or even late-flowering VAXen for all we can tell.
Here is what happens.