This article is more than 1 year old
NASA trumpets rocky exoplanet find
Kepler-10b is 'planetary missing link'
NASA has announced it's nailed the first "bone-fide" [sic] rocky exoplanet, which at 1.4 times the diameter of Earth is the smallest such body spotted to date outside our solar system.
As its name suggests, Kepler-10b was identified orbiting star Kepler-10 - at a distance of 560 light years from Earth - by the agency's habitable planet-seeking Kepler mission.
Between May 2009 and January 2010, the spacecraft identified a list of stars as potential hosts of small planets. Its photometer clocked the minuscule drops in light as a body transited Kepler-10, enabling atronomers to calculate the potential planet's size, orbital period and distance from the star.
Further work by the WM Keck Observatory 10-meter telescope in Hawaii, specifically measuring "tiny changes in the star's spectrum, called Doppler shifts, caused by the telltale tug exerted by the orbiting planet on the star", allowed scientists to announce a confirmed find.
Kepler-10b orbits every 0.84 days, has a mass 4.6 times that of Earth, and a density of 8.8 grams per cubic centimeter, or "similar to that of an iron dumbbell", as NASA nicely puts it.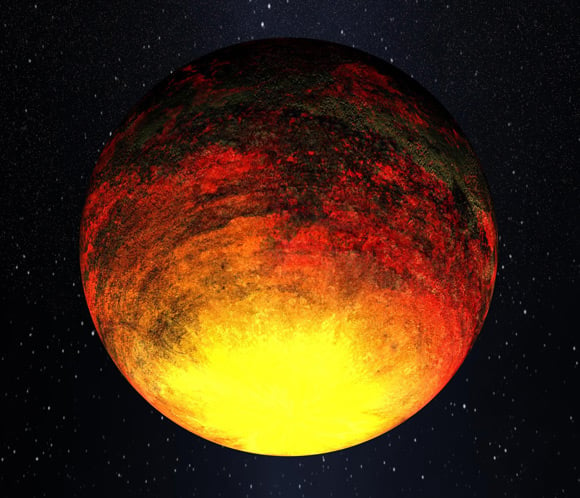 While Kepler co-investigator Dimitar Sasselov insisted the exoworld is "unequivocally rocky, with a surface you could stand on", that would certainly be a bad idea. Kepler-10b is "20 times closer to its star than Mercury is to our sun", so the surface temperature reaches a balmy 1,300°C.
This puts it outside the exoplanet sweet spot for potential life - the "habitable zone" where liquid water might exist - but NASA nonethless sees Kepler-10b as significant.
Kepler scientist Douglas Hudgins said: "The discovery of Kepler-10b, a bone-fide rocky world, is a significant milestone in the search for planets similar to our own. Although this planet is not in the habitable zone, the exciting find showcases the kinds of discoveries made possible by the mission and the promise of many more to come."
NASA trumpeted its new-found world at the 217th annual meeting of the American Astronomical Society in Seattle. Speaking to the BBC at the shindig, veteran exoplanet hunter Geoffrey Marcy, of the University of California, was in no doubt what Kepler-10b represents.
Describing it as "a planetary missing link, a bridge between the gas giant planets we've been finding and the Earth itself, a transition... between what we've been finding and what we're hoping to find", he boldly declared: "This report... will be marked as among the most profound scientific discoveries in human history." ®
Bootnote
Here's more on Kepler 10-b, courtesy of NASA's Vulcan video department: