4G networks can screw up cable TV
I want my MTV, and phone calls too
---
LTE can knock out cable TV, according to new analysis funded by Ofcom, which is bad news for anyone who likes to talk and watch at the same time.
The study confirms suggestions last year that LTE deployments could interfere with cable-TV. Ofcom's research found this could indeed happen if the LTE handset is exactly the same frequency, and operating near full power within a metre of the modem or set-top box. The result the result can be broken-up TV pictures and loss of bandwidth: unless Virgin Media decides to beef up their set-top box line.
The issue lies in the digital dividend spectrum – frequencies that used to be reserved for broadcasting analogue TV, but next year will be up for auction and are expected to quickly fill with 4G (LTE) signals. Cable TV uses the same frequencies squeezed down a wire, but if the LTE signal is strong enough it can sneak into the wire too, generating interference.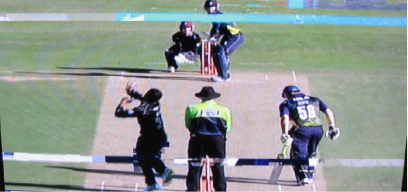 You don't need your phone to watch cricket, so turn it off
The tests were carried out by Cobham Technical Services, who provide a detailed analysis in pdf format, showing that the problem only exists when the signal is transmitted by a handset a metre from the cable-TV kit, at close to maximum power of +25dBm, and on exactly the same frequency. Cobham also found huge variation between the models of set-top box and cable modem tested, complaining that "[a]ll of the STBs were found to have significant rectangular holes (apertures) in the metalwork that can allow unwanted frequencies to pass through" – almost as though the designers wanted some air-flow over the components.
But radio engineers have no interest in heat dissipation, only radio isolation, and several of the set-top boxes tested are insufficiently isolated to ensure interference won't be generated.
That could mean making better set-top boxes, or upping the power of the signal transmitted over the cables, either of which is going to cost Virgin Media (the UK'a dominant cable operator) money. Virgin provided the test boxes, but is still digesting the report and possible mitigation strategies. ®